July 20, 2023 by Molly Weybright
5 Top Plumber Marketing Agencies for 2023
In today's fast-paced digital age, where the internet is the first stop for most people in need of services, the success of any business hinges on its online presence.
For plumbing companies seeking to thrive and expand their reach, harnessing the power of digital marketing has become an indispensable necessity. However, navigating the vast and ever-evolving realm of plumbing trends can be a daunting task, even for the most skilled business owner.
That's where specialized digital marketing agencies come in. These agencies are well-versed in the unique challenges faced by plumbing companies and can devise targeted strategies to ensure that their client's online visibility and reputation are second to none.
From SEO strategies and website design to engaging social media campaigns and lead generation prowess, the right agency can be a game-changer for a plumbing business looking to stand out in a crowded market.
In this blog, we'll discuss 5 of the top plumber marketing agencies that are revolutionizing the way plumbing companies thrive in the digital landscape. With a thorough understanding of the differences between these companies, you'll be able to find the perfect partnership for your plumbing marketing goals.
What is Digital Marketing for Plumbers and Why is it Important?
Before you dive into researching which plumbing digital marketing agencies are a good fit for your company, it's important that you fully understand what exactly we mean by digital marketing and why it is critical in today's day and age.
Digital marketing for plumbers encompasses a range of online strategies, including SEO, social media, and targeted advertising. It is used to promote your services and connect with potential customers online, which is where 66% of consumers turn to research small businesses.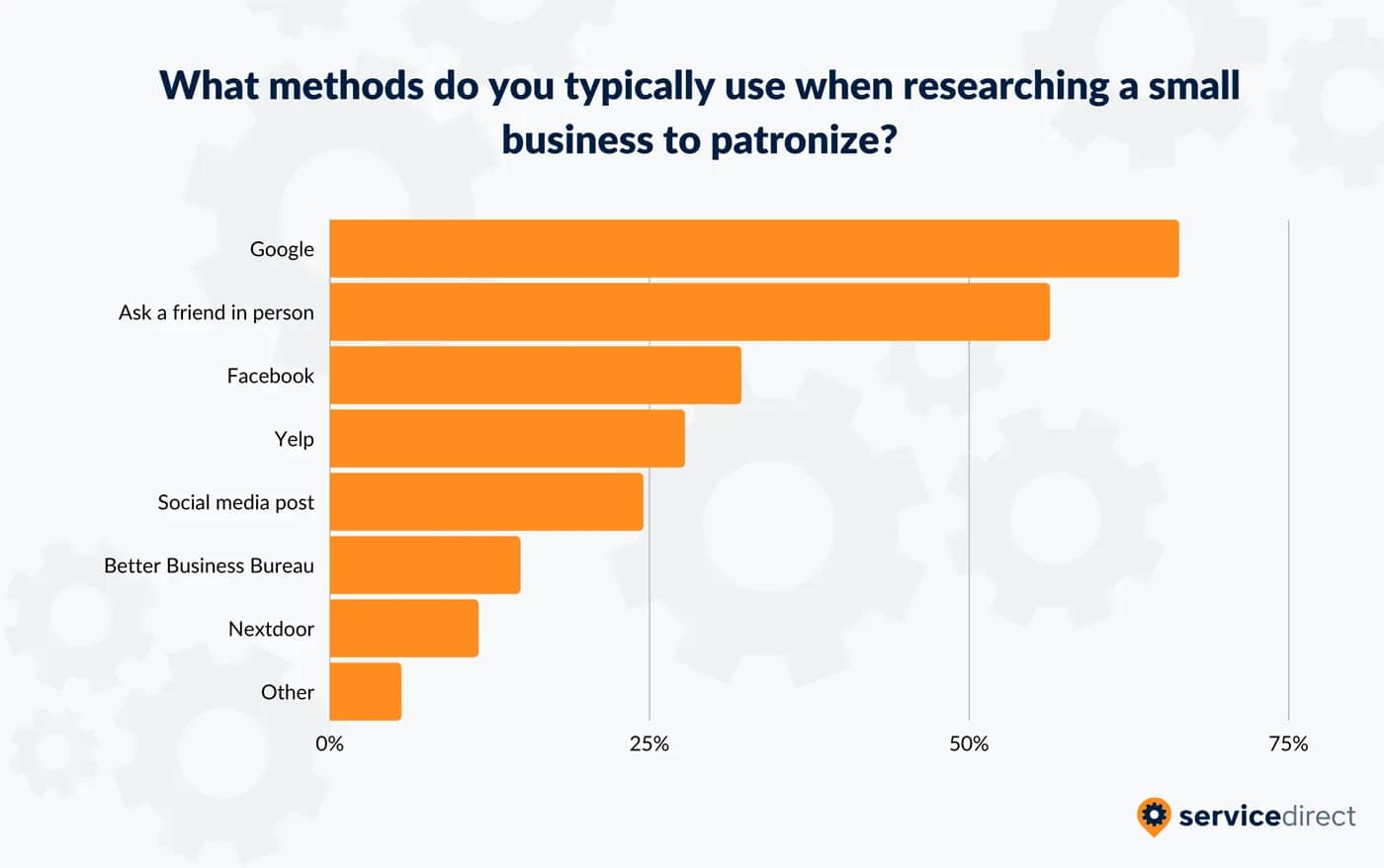 Marketing online is crucial for plumbers because it allows you to expand your reach, enhance online visibility, and engage with your target audience effectively and affordably. By utilizing digital marketing, plumbers can establish their brand credibility, generate quality leads, and stay competitive in the modern digital landscape.
Ultimately, digital marketing empowers plumbing businesses to drive growth, boost revenue, and achieve long-term success in a highly competitive market.
1. Service Direct
Best for: Plumbing companies seeking a performance-based approach to lead generation. Service Direct's pay-per-lead model is best for businesses looking for transparency and measurable results in their marketing efforts.
At Service Direct we stand at the forefront of digital marketing for plumbing companies, consistently delivering high-quality leads. Our localized approach leverages SEO and location-based targeting to boost visibility in local searches.

With our exclusive pay-per-lead model, you pay only for calls from real customers seeking your services. That means you'll never pay for a spam call, wrong number, or solicitor. We believe this helps ensure transparency and accountability.

Tailored campaigns cater to individual plumbing businesses, leading to significant growth in customer base and revenue. Personalized support and real-time reporting empower you with valuable insights, making Service Direct a trusted marketing ally.
We may be biased, but we think almost every plumbing company will see the kind of growth they're looking for with Service Direct.
2. Rival Digital
Best for: Plumbing companies looking for a combination of creativity and strategy. Rival Digital's expertise in website design, branding, and social media marketing is suitable for businesses seeking to establish a strong online presence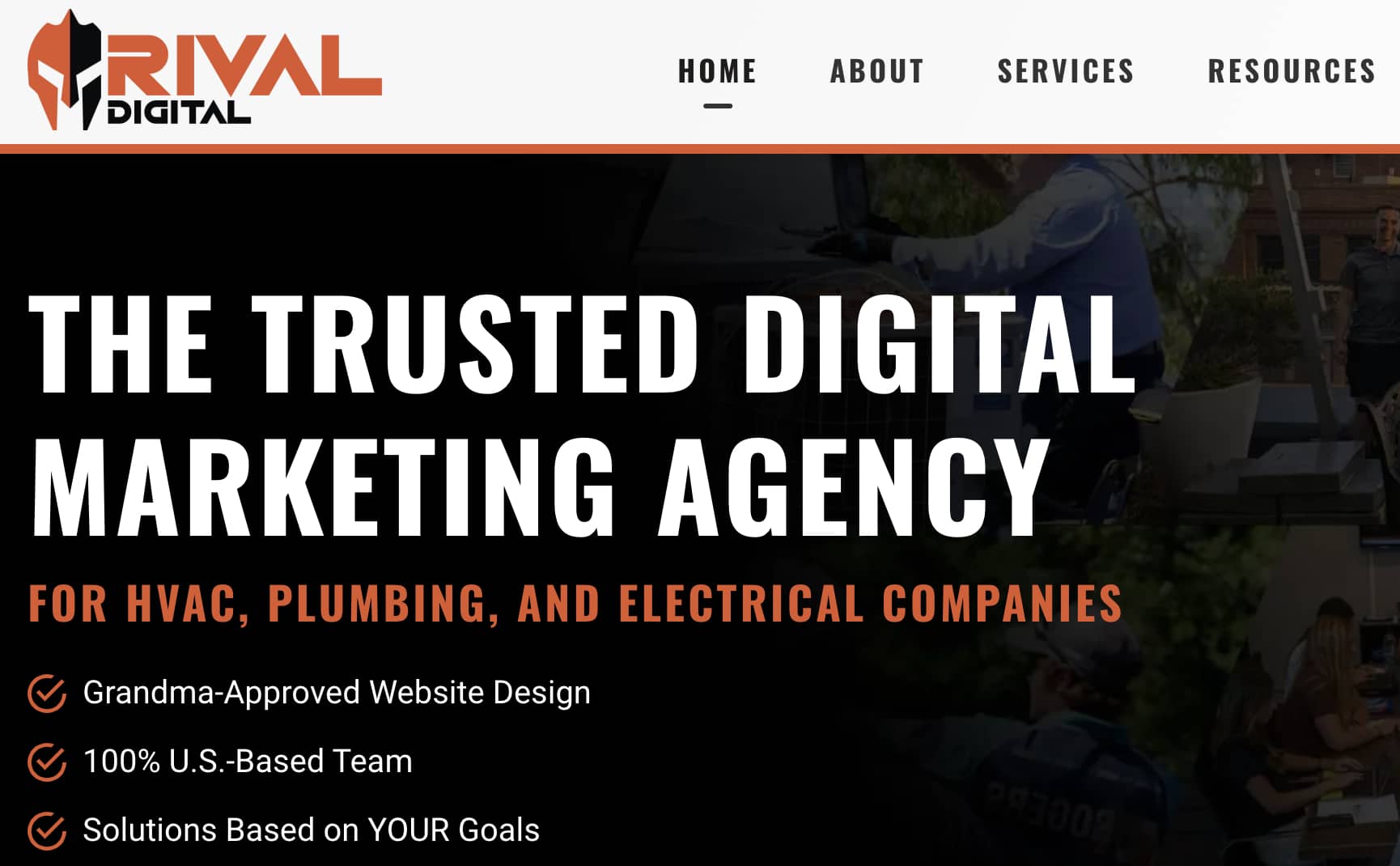 Image Source: Rival Digital
Rival Digital is a leading digital marketing agency specializing in empowering plumbing companies for online success. The agency takes a data-driven approach to understanding the unique needs and goals of plumbing companies while infusing creativity into every aspect of their marketing campaigns.
Additionally, they develop engaging social media strategies tailored to plumbing companies, helping clients connect with their audiences, build brand loyalty, and generate valuable leads.
Rival Digital's ability to seamlessly blend creativity with data-driven strategies empowers plumbing businesses to make a lasting impact in the digital realm, attracting and converting leads effectively.
3. PLUMBER MARKETING FIRM
Best for: Plumbing companies looking for tailored marketing campaigns. Plumber Marketing Firm's services in reputation management and customer retention are a perfect match for businesses seeking customized marketing solutions.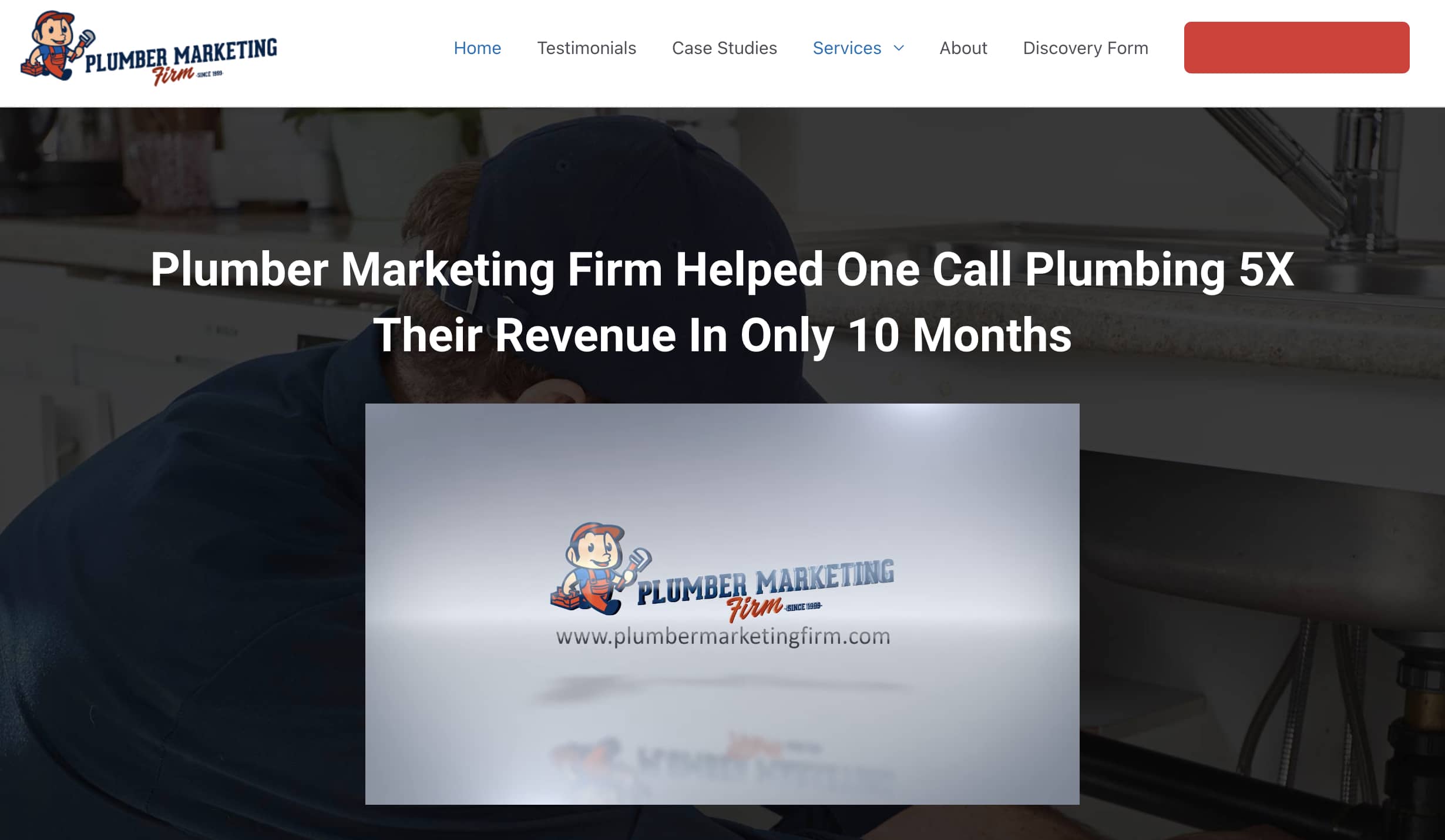 Image source: Plumber Marketing Firm
Plumber Marketing Firm is a specialized agency offering tailored plumbing marketing solutions. With expertise in the plumbing industry, they focus on lead generation, reputation management, and local SEO.
Something that sets this plumbing marketing agency apart is its customizable marketing packages. This flexibility allows clients to choose services that align with their specific goals and budgetary requirements.
They also offer online reputation management, which is a unique plumbing digital marketing strategy that could be especially beneficial to plumbers that have minimal experience managing their online reviews and customer feedback. This helps foster trust and credibility among potential clients.
4. THRIVE AGENCY
Best for: Plumbing companies looking for data-driven strategies and a strong focus on content marketing. Thrive Agency's expertise in conversion optimization and social media engagement can benefit businesses aiming to build brand authority.


Image source: Thrive Agency
Thrive Agency digital marketing company that works with plumbing companies to not only grow their business but to also understand what they're doing and why. Their data-driven approach involves meticulous analysis of key performance indicators to optimize marketing efforts and deliver measurable results.
By creating engaging and informative content, Thrive Agency positions plumbing businesses as industry authorities, driving organic traffic to their websites. They create visually stunning websites and prioritize local SEO for plumbing businesses.
Thrive Agency's commitment to client education and industry recognition solidify them as a trusted plumbing digital marketing company.
5. PLUMBING WEBMASTERS
Best for: Plumbing companies seeking custom website design and optimization. Plumbing Webmasters' specialization in local SEO and conversion optimization makes them a valuable partner for businesses looking to enhance their online visibility and drive conversions.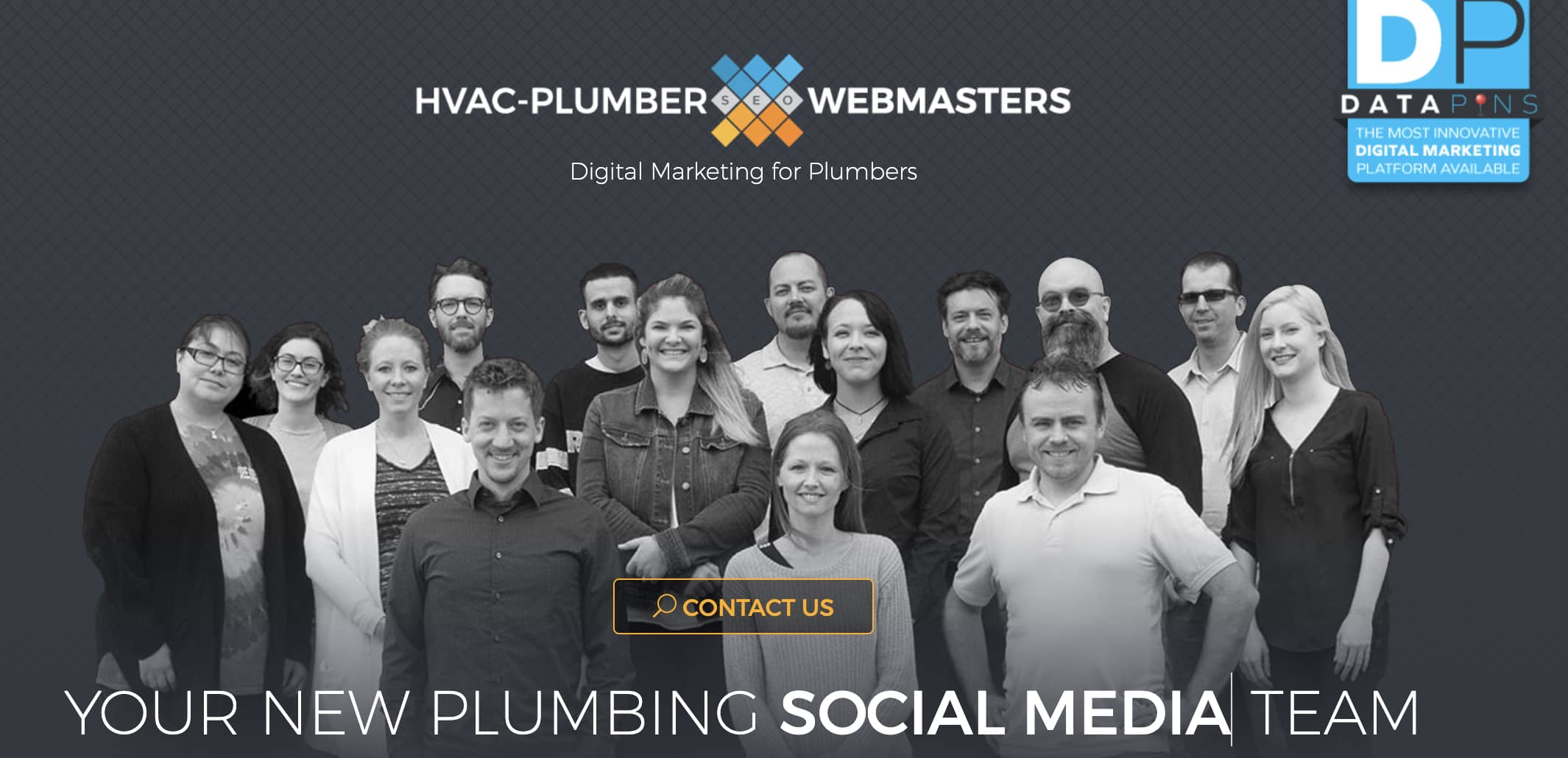 Image source: Plumbing Webmasters
Plumbing Webmasters is a top digital marketing agency for plumbing businesses, providing custom website design, local SEO, reputation management services, and more. With a keen understanding of the plumbing industry, they help plumbers establish a strong online presence and attract their target audience.
With a prioritization on optimization, the team at Plumbing Webmasters ensures their clients' websites are mobile-optimized and designed to convert. This includes generating SEO content and CTAs all with a goal of getting in front of the right potential customers and encouraging them to convert.
With a focus on personalized support and data-driven strategies, Plumbing Webmasters stands out as a trusted partner for plumbing companies seeking to thrive online.
IN CONCLUSION
In the ever-evolving world of plumbing marketing, the power of digital strategies has proven to be a game-changer for businesses seeking to thrive and expand their reach. We have explored the top 5 digital marketing agencies that have revolutionized the way plumbing companies approach their online presence and attract customers in the digital landscape.

These companies' expertise, innovation, and client-focused approach make them valuable allies for plumbing companies looking to elevate their online presence, attract a steady stream of customers, and achieve sustained growth.

By choosing the right plumbing marketing agency for your digital goals, you'll be well on your way to growing and achieving your goals.
RELATED ARTICLES