October 08, 2020 by Molly Weybright
6 Tips to Promote Your Pest Control Business on Social Media
Over the last 20 years, technology has progressed leaps and bounds beyond what many could have imagined at the turn of the century. Because of this, businesses must be constantly adapting their marketing strategies to bring in new customers and pest control companies are not exempt. In fact, no matter how long you have been running a pest control business, you have likely felt the swing away from traditional marketing efforts and toward newer, digital marketing tactics like lead generation and social media. Whether you're just delving into promoting your pest control company on social media or are doing so already, keeping these tips in mind will help ensure you are effectively using every tool at your disposal.
Focus on Creating Engaging Campaigns
The anatomy of an engaging social media campaign is going to differ for every industry, business, and area. Where one pest control company might find success posting images and informative content, another might find their niche with testimonials and video content. One of the most difficult aspects of successful social media marketing is finding the time and patience needed to figure out what works best for your pest control business. But, there are a number of elements to keep in mind when building your social media campaigns that are likely to boost its success.
Tips to Help Create Engaging Social Media Campaigns:
Put yourself in your customer's shoes
Use images to break up blocks of text
Use hashtags but don't overdo it (keep it to 3 or fewer on most platforms)
Share posts from other pest control industry leaders
Avoid stock images if possible
Tag any contributors and incentivize them to share your posts
Keeping these tactics and others in mind when building a social media profile will help you engage with current and potential customers.
Visual Elements Are Your Friend
When we say visual elements here, we are talking about anything without a primary text element such as videos, images, and other graphics. These visual elements help to not only break up large sections of text on your social media pages, but they also create eye catching posts that have a higher chance of engagement. In fact, while people remember only about 10% of content they read, those same people remember 65% of the same content when it is paired with a relevant image.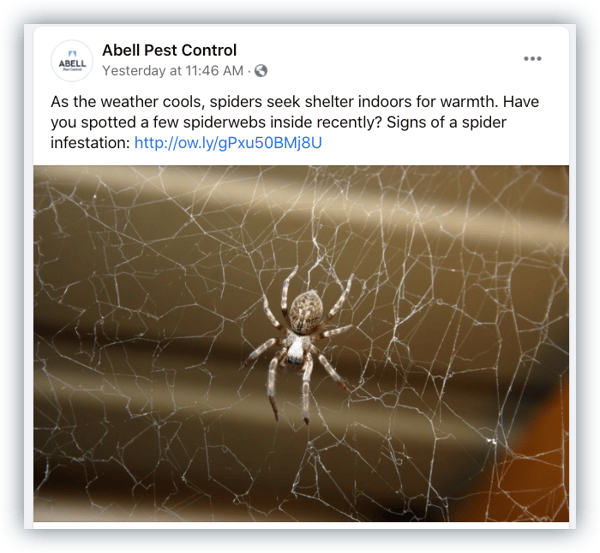 So what does that mean? In the simplest terms it means that potential customers are more likely to remember your pest control business down the road when they need your services if you pair your content with graphics. It also means that your pest control content is going to be more engaging and widely shared on your social media sites as well as others' sites.
Make Use of All Tools at Your Disposal
There are a number of tools you can use to aid in the promotion of your pest control business on social media, some built in and others external. Tools such as Facebook Audience Insights and YouTube Studio allow you to view valuable insights that can help you better tailor your content to your desired audience. These tools allow you to view the demographics of your audience and, in the case of Facebook, see how many individuals that are unassociated with your pest control page are viewing your profile. Insight tools are valuable resources to help you see how well you are connecting with the people you want to reach!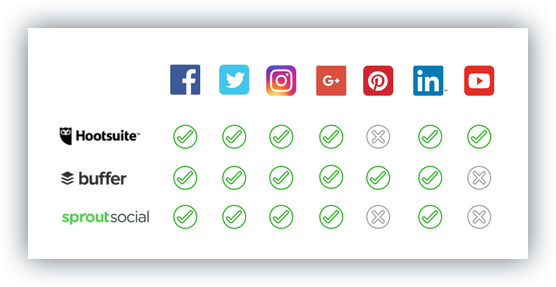 Other tools that can make your pest control social media journey more manageable are those that allow you to schedule social media posts for the future. Platforms like Facebook have built in tools that allow you to create an entire post and schedule it to go live at any time. There are also external tools like Buffer, Hootsuite, and Everypost with easy to use dashboards that can help you keep track of every post you have coming up! Looking into every tool at your disposal will help increase the ease and effectiveness of your pest control company's social media engagement.
Use Testimonials Every Chance You Get
When was the last time you booked a service or ordered something online without reading at least one review? If you are like 52% of the population between ages 18-54, you always read reviews before booking services or ordering, according to a study. In fact, the same study states that the average customer reads 10 reviews before feeling that they can trust a business. As a premier pest control company, you know how crucial it is that current and future customers trust you to enter their property and do a good job ridding it of pests. Highlighting testimonials on your social media sites is a great way to begin establishing that trust.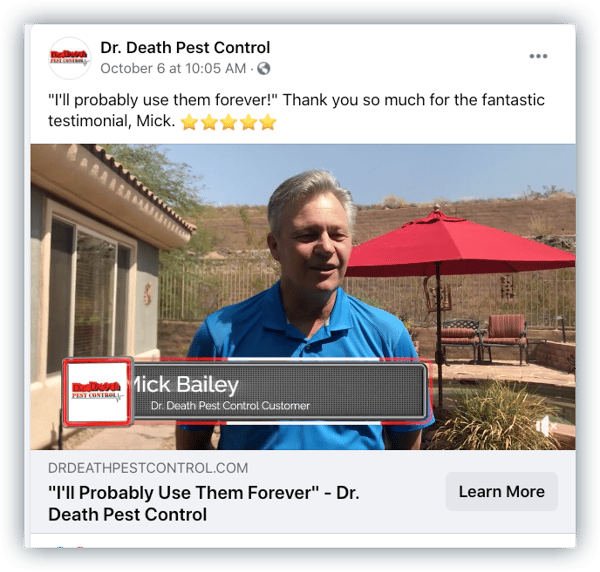 Source: Dr. Death Pest Control
If you feel like you need more positive reviews to reflect the quality of customer care and pest control services you offer, you may be wondering how to garner those testimonials. Always follow up with customers after a job, asking them what went well and what could be improved with your pest control services. This is a great opportunity to ask for reviews! You can also offer incentives such as discounts on future services if customers leave an online review, which for many people could be the extra nudge they need to post a great testimonial.
Don't Be Afraid to Get Creative
The beauty of social media is that it is always evolving. Whether it's the inception of new platforms like TikTok and Caffeine or the evolution of tried and true platforms like Facebook, Twitter, and Instagram, few things are stagnant for long in the world of social media. When you have a pest control business to operate, staying on top of the ever-changing social media universe can be daunting. But, don't be afraid to try out new ideas and get creative with your social media engagement!
Maybe you want to produce a video focusing on destigmatizing the negative aspects of pest control. Perhaps you want to record your pest control practices and turn them into a fun, informative, 60-second video for TikTok. You can even hold contests or promote surveys to engage directly with customers. The beauty of social media is that there are no right or wrong answers. Instead you have opportunities to either garner new customers or learn what doesn't work with promoting your pest control business on social media!
Stay Positive
Your best bet for social media success with regards to your pest control business is start small, keep it simple, and stay positive! Chances are you will hit some bumps in the road on your way to figuring out what works for you with social media engagement. It's imperative that you keep trying until you find your own recipe for success. Keep these tips as well as others in mind when digitally marketing your pest control business on social media.