March 21, 2023 by Molly Weybright
The Pros and Cons of Pay Per Call Marketing
If you've landed on this page, it's most likely because you are interested in learning more about pay per call marketing and whether or not it could help drive more leads to your business.
A strategic approach to pay-per-call (sometimes referred to as "PPCall") is going to be extremely successful for some companies and not as successful for others, and the only surefire way to determine which group your business falls into is by doing some research.
We hope that these pros and cons will help you see if your company aligns with pay per call lead generation.
But First, What Is Pay Per Call?
PPCall marketing is when a lead generation company drives phone calls from potential customers actively seeking services directly to businesses who offer those services. This differs from other lead generation methods because you are immediately connected with a real person on the other end of the line versus having to reach back out to remarket or respond to form submissions.
The overall goal of pay per call is to bring high quality phone leads to businesses that have the ability to consistently answer the phone and book the job every time. With this marketing strategy, success looks like an increase in new customers to your business and a much desired spike in revenue.
Advantages of Pay Per Call Marketing
Higher Quality Leads
Pay per call marketing generally results in higher quality leads than other digital lead generation methods, such as pay per click. This is largely due to the fact that a customer who is willing to pick up the phone and call your company is much more likely to need your services.
Rather than someone who is clicking an ad out of curiosity or someone who is filling out multiple forms to price-shop for services, someone who is calling is almost assuredly a higher quality lead.
Higher Conversion Rates
Because the people who are calling your company have a greater, more immediate need for your services, they are going to be more primed to book a job with you. Plus, the back-and-forth conversation of a phone call, as opposed to the one-sided communication of forms submissions or pay per click ads enables a more informative experience that can help potential customers make their decision. So if you are poised to close the deal, you are going to see high conversion rates with pay per call marketing.
In fact, a recent study found that phone calls convert customers 10-15x more than web leads, which can lead to a huge increase in conversions for your company with this lead generation tactic.
High ROI
Although pay per call marketing may look more expensive on paper, it often results in a high return on investment compared to other forms of digital marketing. Building on the higher quality leads and conversion rates, pay per call marketing allows you to invest more in receiving calls from customers primed to convert.
When you are able to follow through and book the call, you're going to see a huge return on your investment, especially because your cost per lead is going to be relative to how much each job costs.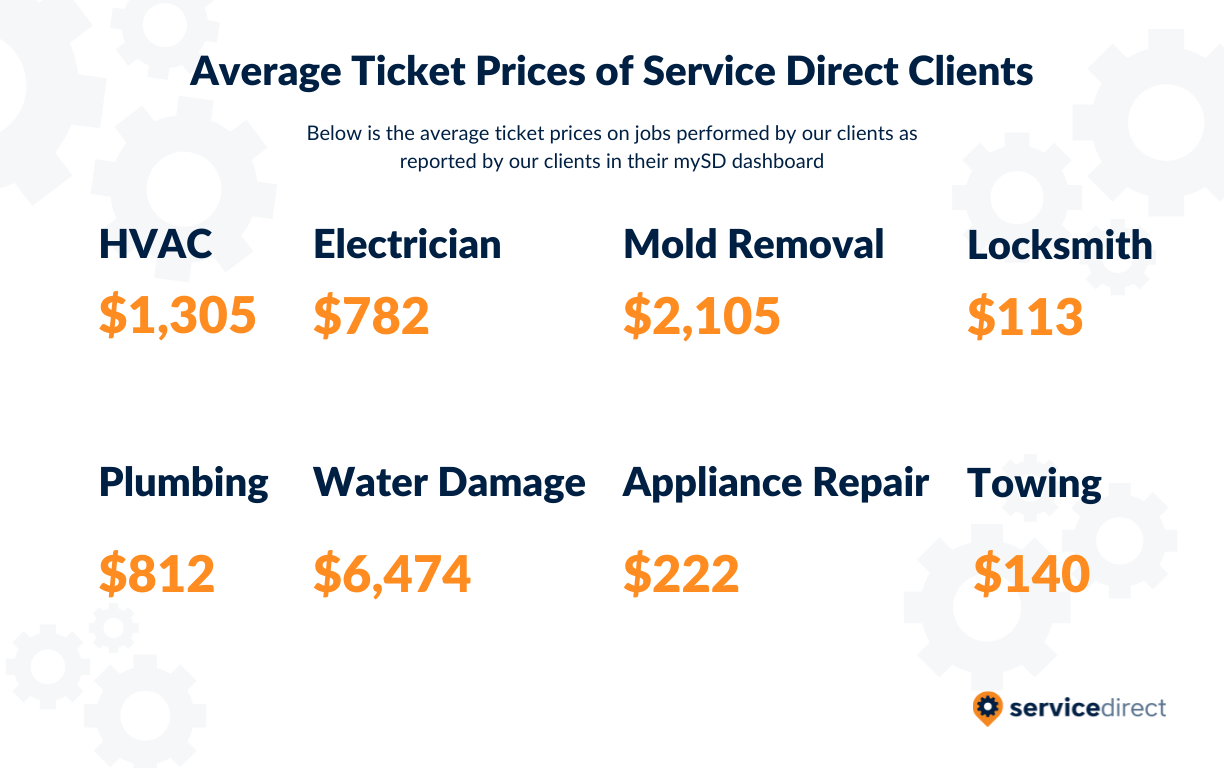 Less Competition
With PPCall marketing, you are going to see much less competition than you would with other digital marketing methods that are viewed as cheaper and easier, like pay per click. This is largely because pay per call tends to be a bit more intimidating. You can also bid on exclusive phone leads, which may come at a higher cost, but remove any competition for that particular lead.
Many companies also assume you need to have a huge marketing budget to see success. This perception will keep a lot of your competitors away from trying pay per call, which means you have more room in the market to work with.
Pay for Calls From Actual Customers
One of the most important tenets of pay per call lead generation is that you are only expected to pay for calls from actual customers who are seeking your services. Unlike pay per click or other traditional advertising methods, this means you won't have to throw money at spam, solicitors, wrong numbers, and job seekers.
Of course, you still have to put in the work to turn the lead into a booked job, but knowing that you don't have to pay for calls unrelated to your services can be a huge relief for businesses that are tired of seeing their money spent on useless clicks and forms.
Affiliates Are Highly Skilled
One of the major benefits of pay per call marketing is that the PPCall company you're partnering with has a well equipped toolbelt to help bridge the gap between what you want to gain from digital marketing and the level of know-how necessary to achieve that goal.
The leading industry partners have years of experience that allows them to support your company by answering any questions and concerns you may have while quickly driving new calls to your phone. They have done the research and spent the time learning how to target customers who are poised to convert from the beginning so that you don't have to.
Successful marketing often comes from a lot of trial and error to figure out what works for audiences and companies alike, and pay per call companies have done a lot of that work for you so that you can focus on what you do best—providing quality services to your customers.
Technology is Quickly Evolving
Due to the unique nature of pay per call marketing, there is a lot of room for innovation, which means that the technology in the industry is quickly improving.
The flexibility of PPCall allows companies to work alongside changes in the advertising industry to better serve their customers and create new tracking and reporting tools as well as updated best practices.
Quick Feedback Loop
Depending on how long you have been working with digital marketing, you most likely know that some of the most important tools in your arsenal are your reporting and tracking methods. Without those, it can be incredibly difficult to see success because you'll keep making the same errors without understanding exactly where things are deteriorating.
With pay per call, this feedback loop is nearly instantaneous due to the transparent nature of phone calls. When a potential customer doesn't convert, it's much easier to determine the reasons why when the conversation happens over the phone versus through email or chat.
Plus, many PPCall companies have call quality tools so that you and your team can go back and learn as much as possible from each call.
Disadvantages of Pay Per Call Marketing
Leads Are More Expensive
One of the main reasons companies might shy away from pay per call marketing is because the leads are more expensive, which can be initially overwhelming. The reality is that the leads are more expensive because the quality of the leads is consistently much higher than you are likely to see with other digital marketing methods.
But, if you are not prepared to convert every call into a lead or you don't have the capacity to answer every single call, it might not be the right time for you to undertake PPCall marketing, as the costs can add up.
There's More To Lose
With PPCall, you pay for every call from a customer who is actively seeking your services, whether or not you book the job. Because the costs per lead are higher and you are going to get fewer leads due to the nature of the method, this means that you have a lot more to lose on each call.
If your call-answer team isn't up to snuff, you could start hemorrhaging money quickly, which could result in your company spending tons of money on expensive leads without anything to show for it. According to Service Direct's Home Services Call Performance Report, business owners estimated they were answering 97% of phone calls on average, but in reality, the actual call answer rate was only 66%. So you need to be absolutely sure you and your team aren't letting valuable calls go to voicemail!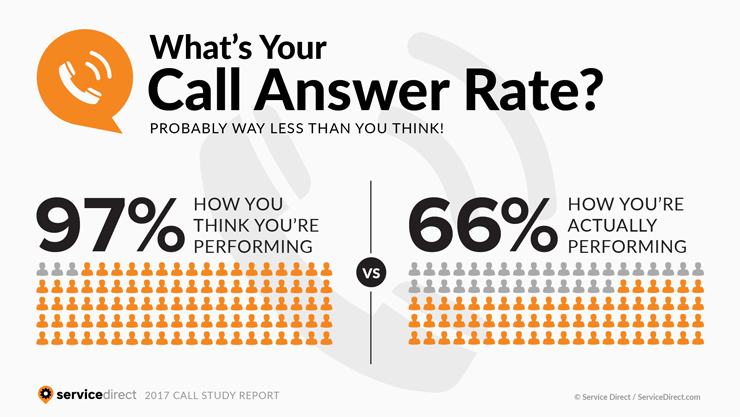 If you aren't sure whether your team is up to the challenge of converting as close to 100% of leads possible, you might want to consider beefing up your sales strategy before venturing into pay per call.
Requires Regular Attention
We've said it many times before and we'll say it again here: you can't set it and forget it with pay per call. Tracking, reporting, and analyzing results is incredibly important in seeing a successful increase in business with nearly every marketing strategy you're implementing.
It's especially important with PPCall due to the expensive nature of leads. This means that you need people at your company who have the time and expertise to regularly monitor your PPCall campaigns and make adjustments quickly if something seems off.
Not Suitable For Every Industry
The industries that see the most success with pay per call are those that require a human touch at some point in the buyer's journey and have high-value services. That's why industries like home services, insurance, finance, and automotive see high levels of success with PPCall.
If your company doesn't encourage phone calls from customers or if you feel like you won't make enough on each job to justify the higher costs per lead, your business might not be a good fit for this type of digital marketing.
If you're unsure, your best bet will be to look into different pay per call networks and determine if any of them typically work with businesses in your industry—some companies even publicize the industries they service, which could give you an idea of whether PPCall will work for you.
Conclusion
Deciding whether pay per call lead generation is the right marketing strategy for your company can seem like an overwhelming task, but we hope that these pros and cons have shed some light on what you can expect from PPCall and whether or not it is right for you.
Want to learn even more about PPCall lead generation, check out our Ultimate Guide to Pay Per Call Marketing!