August 12, 2022 by Molly Weybright
How To Generate More Roofing Leads with PPC Search Ads
Are you a roofing company that's looking for more leads? If so, you may want to consider using PPC search ads to connect with more potential customers in your area. PPC advertising is a great way to get your business in front of potential customers who are actively searching for roofing services online. In this blog post, we'll discuss the basics of PPC advertising and how you can use it to drive more leads to your roofing business. We'll also provide tips on how to create a website that encourages conversion, a key part of bringing in the lead volume you've been looking for.
If you are scratching your head and wondering if PPC is actually an effective lead generation strategy, you're not alone. Of the 250 local service companies we recently surveyed, only 4% listed it as an effective lead gen strategy, placing it at the bottom of marketing channels that small businesses find useful. But, after over 15 years in the lead generation industry, we know that PPC advertising is not only a good way to bring in more leads, but is in fact one of the most effective tactics in our increasingly digital world. It's our goal that by the end of this blog you will feel confident using PPC to generate more leads for your roofing company, setting you ahead of many competitors in your area!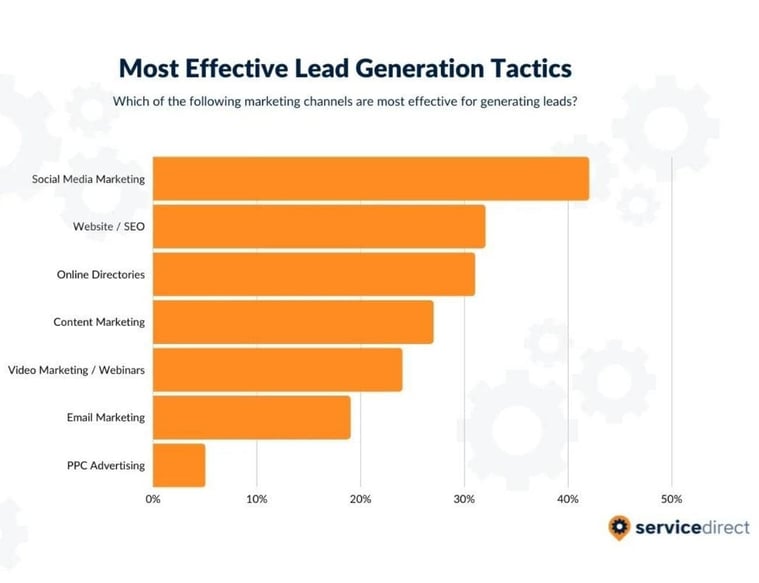 Service Direct surveyed over 250 local service businesses asking a range of questions about their marketing efforts.
Getting Started With Keywords
Simply put, keywords are the terms that potential customers use when they search for products or services online. For example, if someone is looking to install a metal roof, they might type "metal roof" into a search engine. By targeting specific keywords and incorporating them into your PPC ads, you can reach people who are actively interested in what you have to offer. In other words, you're not just casting a wide net and hoping for the best; you're specifically targeting people who are already interested in what you have to say. And that can make a big difference for your bottom line.
Using Google's Best Tools: Google Keyword Planner
If you're a little overwhelmed at the prospect of figuring out which keywords you need to focus on for your roofing PPC ads to be successful, you might find Google Keyword Planner to be extremely helpful. Google Keyword Planner is a free keyword research tool that helps you find and select the right keywords for your Google Ads PPC campaigns. The tool enables you to search for new keywords based on your existing website or based on terms that you enter. You can also get historical statistics about keyword searches, including monthly search volume and average cost-per-click (CPC).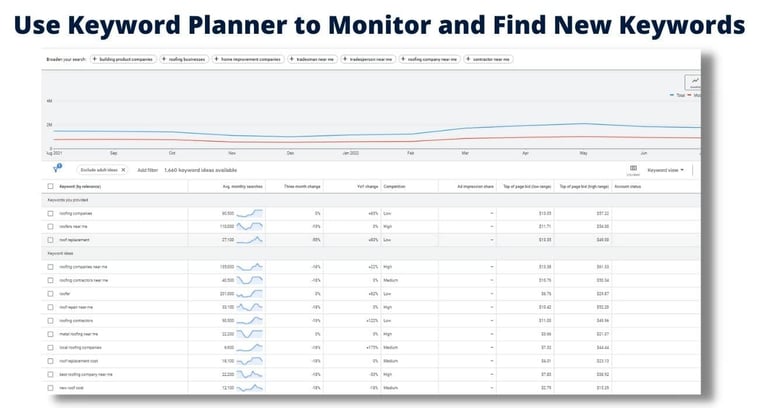 In addition, Google Keyword Planner provides suggested bid estimates for each keyword, so you can budget your campaign accordingly. By using Google Keyword Planner, you can ensure that your Google Ads campaigns are targeting the right keywords and that you're bidding an appropriate amount for each keyword. As a result, you work toward a high return on investment for your PPC ads.
Keyword Spend
When it comes to PPC advertising, it's incredibly important to set a budget for your keyword spending. When you bid on keywords, you are essentially competing against other advertisers for ad space. The higher your bid, the more likely you are to appear in search results. However, if you don't have a budget, you could quickly spend more than you intended and end up with little to show for it. Setting a realistic budget and sticking to it will help to ensure that you don't overspend and end up wasting money. Additionally, a budget will help to keep your PPC campaign organized and focused by setting a spending limit, which requires that you make sure your keywords are targeted and effective. In the end, having a budget for your keyword spending is essential for running a successful PPC campaign.
Smart Bidding
Google smart bidding is an automated bidding strategy that uses machine learning to optimize your bids for conversions. With smart bidding, you set a target CPA (cost-per-acquisition) and Google will automatically adjust your bids to help you meet that goal. Smart bidding is a great way to improve your roofing PPC ad strategy by taking the guesswork out of bidding on keywords and reducing the time spent constantly monitoring and adjusting your bids manually. Plus, because it's powered by machine learning, it gets smarter over time, so you can continue to improve your results. If you're looking for a way to improve your paid search campaigns, Google smart bidding is definitely worth trying out.
Keyword Negatives
You now know that in order to be successful with roofer PPC advertising, you need to target the right keywords. But, it's important to understand that keyword negatives are just as important as keywords themselves! By adding negative keywords to your campaign, you can ensure that your ads will not be shown to people who are not interested in what you are selling. For example, as a roofing company, you would want to add "roofing repairs near me" as a keyword and "DIY roof repairs" as a negative keyword. That way, your ad will only be shown to people who are specifically searching for roofing services and not those who are wondering how much a roofer makes in a year. Carefully choosing your negative keywords can save you a lot of money on your roofing PPC campaigns. By avoiding wasting money on uninterested searchers, you can reduce your cost-per-click and get more value out of your PPC budget.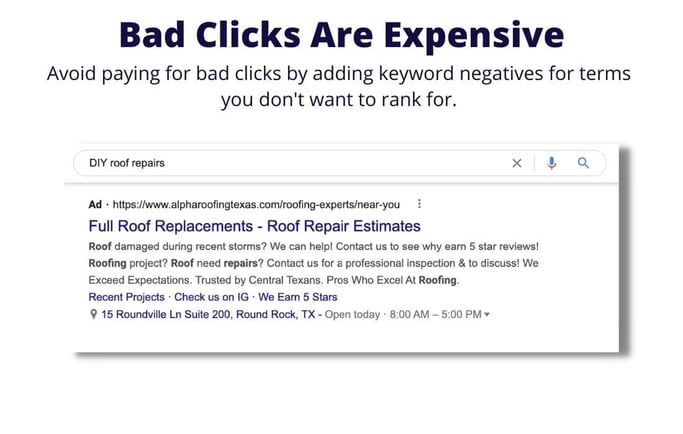 Although focusing on keyword negatives may not feel quite as intuitive as prioritizing which keywords you want to target, it's an unavoidable part of a successful PPC strategy.
PPC Tracking and Reporting
One of the most important things to remember about your roofing PPC campaigns is that you can't just "set it and forget it". Effectively tracking and reporting on your PPC ads gives you the ability to see what is working and what is not, so that you can adjust your campaigns before spending money on an ineffective strategy. Without tracking and reporting, you are essentially flying blind, and are likely to waste a lot of money on ads that aren't working for one reason or another. Additionally, tracking and reporting can help you understand which keywords are converting so that you can focus your efforts on those keywords.
PPC Conversion Tracking
Google's PPC conversion tracking tool is an amazing way to keep track of your PPC campaigns and make sure that you are getting the most out of your investment. The free tool allows you to see how many people are clicking on your ad and then converting into customers. You can also use it to track how much money you're making from each conversion. The best part is that it only takes a few minutes to set up. Just add a snippet of code to your site, and you'll be able to start tracking conversions in no time. So if you're serious about making money from your PPC campaigns, make sure you're using Google's conversion tracking tool.
Google's Quality Score
Quality score is another factor that you can use to gauge the efficacy of your roofing PPC strategy. It's a number that represents how relevant your ad is to the keywords you're targeting and how well your landing page aligns with those keywords. The higher your quality score, the more aligned your ads are with what potential customers are looking for. Quality score is determined by a number of factors, including click-through rate, ad relevancy, and landing page experience. A high quality score is a strong indicator of how well your PPC ads will continue to perform, but it should not be used as the sole criteria for monitoring your PPC ads. We recommend using quality score as a supplemental tool on top of conversion tracking data to determine PPC performance.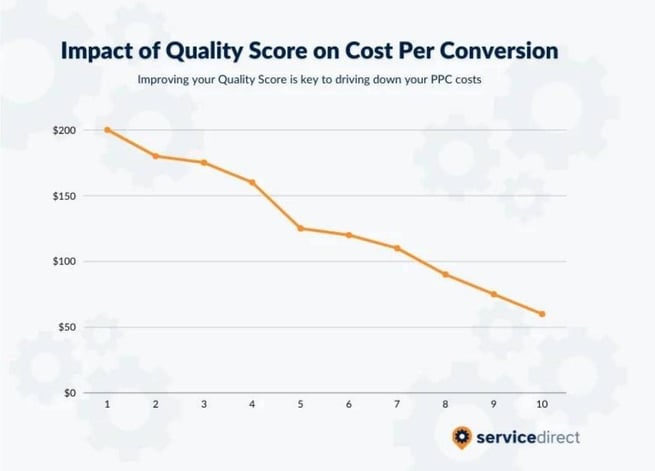 Service Direct results based on PPC campaigns we run for our in-house roofing traffic
Make Your Roofing Website a Conversion Machine
The overall goal of PPC advertising is to drive people to your website that are searching for roofing services in your area. But, all of the time and money you invest into a high-level PPC strategy will be for nothing if your roofing website is not designed to convert. By ensuring that your site is high performing and directing searchers to service-specific site pages you are adding the final key building block onto the PPC fortress you've been constructing so far—kind of like a roof.
Test for High Performance
A website that loads slowly or is difficult to navigate is not going to result in conversions. In fact, studies have shown that even a 1-second delay in page load time can result in a 7% decrease in conversions. So if you want to increase your chances of converting visitors into new roofing customers, you need to make sure your website is high performing. One way to do this is to test your site regularly and make sure it's loading quickly and efficiently. You should also make sure that your site is mobile-friendly and easy to navigate. By taking the time to make sure your site encourages conversion, you're one step closer to seeing the increase in leads you've been looking for.
Focus on Quality Content
If you want people to take action on your website—whether that's calling you or filling out a contact form—it's essential to write clear, concise, and actionable content. Bombarding visitors with too much information will only overwhelm them, and make it less likely that they'll take the desired action. Instead, focus on writing useful content that's easy to read and digest. And be sure to include visible calls to action (CTAs) throughout your site so visitors always know what they need to do to get in touch with you for roofing services. These tips will not only make it easier for potential customers to know how exactly to get in touch with your roofing business, but they will also help establish that you are a highly reputable, trustworthy company worthy of their patronage.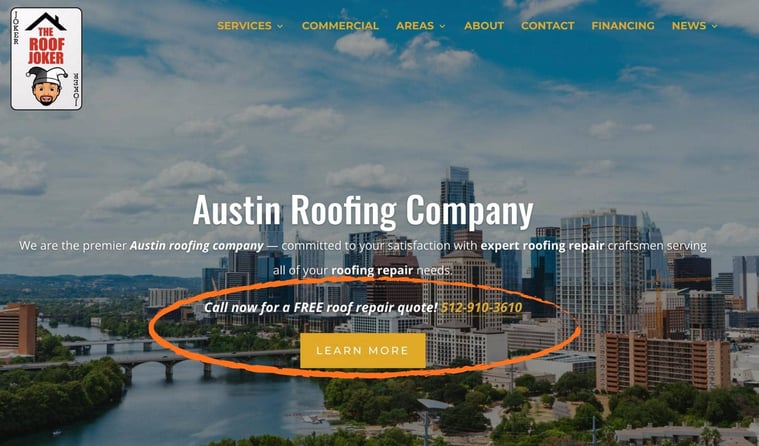 Source: roofjoker.com
Use Site Pages to Your Advantage
If your roofing company offers multiple services, you might consider adding site pages on your website for your higher-revenue, in-demand services. By creating pages that are highly focused on individual services, you can give potential customers the information they need to easily make a decision and boost conversions. After all, if someone is looking for a specific service, they don't want to have to wade through a bunch of general information—they want to be able to find what they're looking for quickly and easily. By having individual site pages, you can direct potential customers to the right place and increase the likelihood that they'll convert into paying customers. Plus, site pages can help to boost your organic search ranking for relevant keywords, making it easier for potential customers to find your website organically.
Examples of Roofing Site Pages:
Emergency Roofing
Roof Repairs
Commercial Roofing
Residential Roofing
Metal Roofs
Specialized Roofs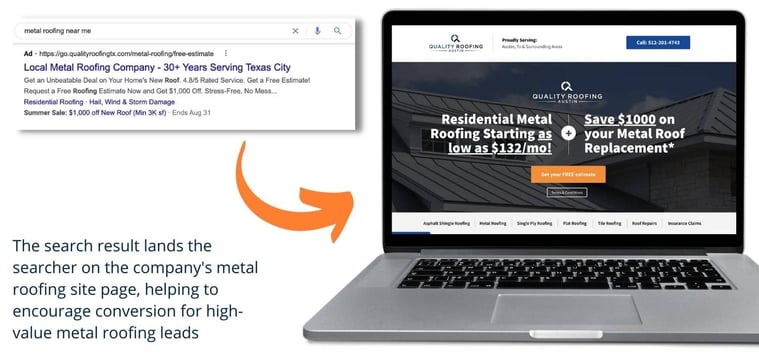 Source: qualityroofingtx.com
If you're looking for an edge on your competition, roofer PPC is a great place to start. By focusing on the right keywords, tracking your results, and making sure your website is optimized for conversions, you should see a significant increase in leads from PPC ads. For more detailed information on how to create an effective roofing marketing strategy, download our free marketing guide today!
Related Content