November 10, 2022 by Taylor Stafford
Best Tips for Using Facebook Ads to Generate Leads for your Locksmith Company
Updated on September 5, 2023
Are you looking for ways to generate leads for your locksmith business? If so, then you should consider using Facebook Ads. With over 2 billion active users, Facebook is a great platform to reach a large audience.
Plus, locksmith Facebook Ads are relatively inexpensive and can be targeted to specific audiences.
In this blog post, we will share with you the best tips for using Facebook Ads to generate leads for your locksmith company. We'll cover everything from choosing the right image to setting up your ad campaign.
So if you're ready to start generating more leads for your business, read on!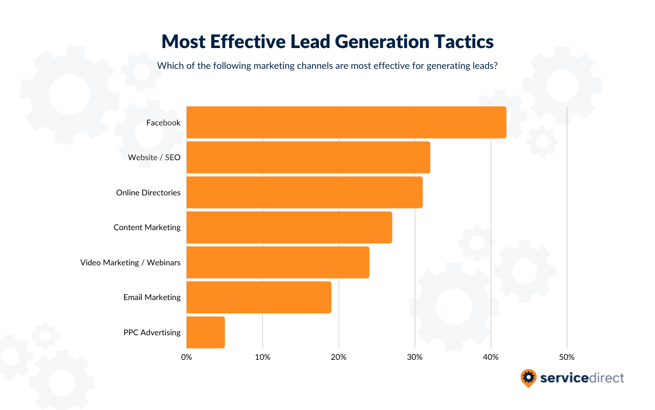 what role will facebook play in your marketing plan?
When planning your locksmith marketing strategy, it is important to consider the role Facebook Ads can play. By using Facebook Ads, you can promote your locksmith services and increase brand recognition.
Your ads don't have to be complicated and expensive—there is a variety of targeting options available to ensure the right people are seeing your messages.
You just need to set goals, create content that resonates with and appeals to your target audience, and measure performance to make sure you're getting the most out of your locksmith Facebook Ads.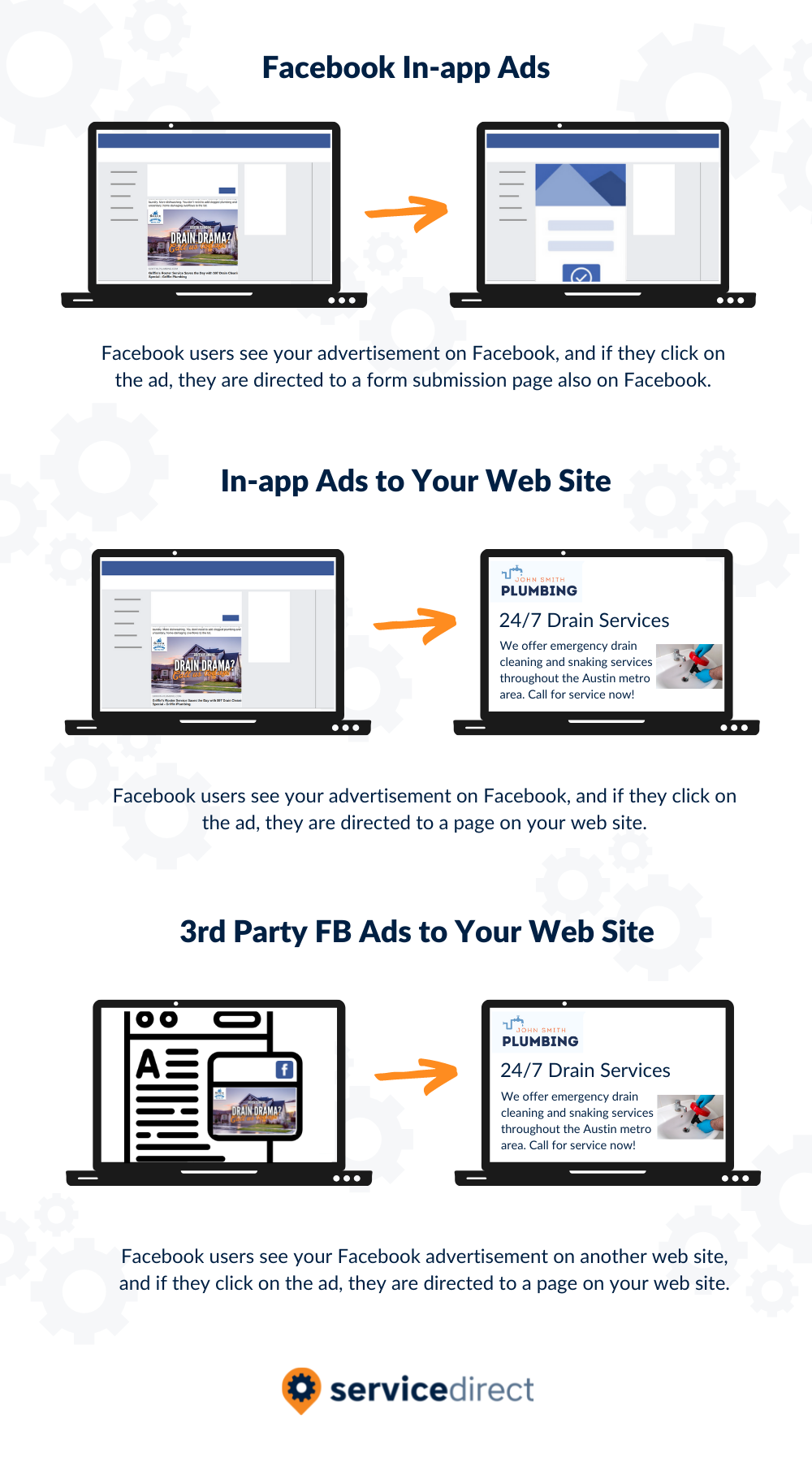 How do Facebook Advertisements Work?
Facebook Ads are a powerful tool to get the locksmith business out there! You can feature reviews, short-form videos, and impactful content all through locksmith Facebook Ads. And by creating custom-targeted ads, locksmiths can reach the exact user base that their services appeal to.
Businesses can create detailed user profiles of the exact people they want to target—from geographical area and occupation to interests and activities.
Furthermore, businesses can install tracking codes on their websites or pages, allowing them to track users' actions after they click on an ad, giving locksmiths valuable insights into customers' movements and behaviors.
In this way, locksmiths are effectively able to maximize their advertisement budget and invest money in campaigns that will convert into long-term returns for the business.
how Facebook Pixel works
Most businesses utilize locksmith Facebook Ads to reach the largest audience possible. But few are aware of the power and convenience of something called Facebook Pixel.
In a nutshell, it's a small piece of code that locksmith businesses— and anyone running ads on Facebook — can use to track conversions from their locksmith ads and glean insights about their target audience.
The data collected provides invaluable information that locksmith business owners use to measure the effectiveness of their advertisement campaigns, creating targeted ads for potential customers more likely to respond positively.
Overall, unlocking the power of Facebook Pixel helps locksmiths become better informed when making key marketing decisions, ensuring they're getting maximum ROI with every ad they run.
How to use Ad Objectives
When planning locksmith Facebook Ads, it is important to consider the objectives of the ad. Determining your goals upfront enables you to create an effective ad that meets the needs of customers and drives results.
There are 3 primary ad objectives to choose from—driving website clicks, creating awareness, and boosting engagement. Depending on your target audience and desired outcome, locksmith businesses should use each objective strategically.
For example, if you want customers to learn more about a particular locksmith service or product being offered, then creating relevant awareness is key.
Furthermore, if you are looking for more website traffic or conversions, leveraging website clicks would be wise.
Finally, for locksmiths who have a well-established presence in their community and just need a boost in engagement with current followers using page post engagements could be ideal.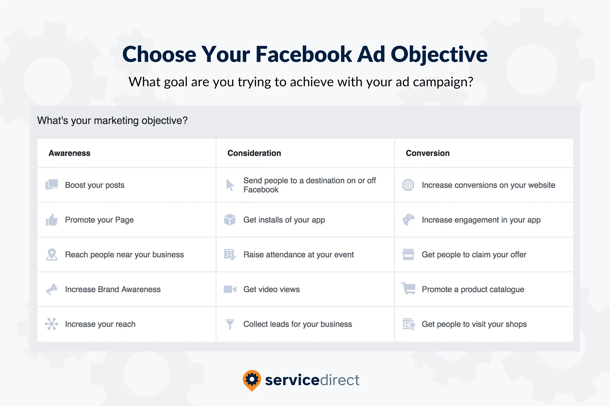 Ad Formats
Understanding locksmith Facebook Ads starts with understanding the different ad formats available. Three of the most popular locksmith Facebook Ads are static image ads, video ads, and carousel ads.
Static image ads are single still images that potential customers can click through to lead them to a website or app, while video ads capture more user attention with moving elements.
Lastly, carousel ads enable locksmiths to feature multiple images/videos linked together in one post, allowing locksmiths to expand their messaging opportunities and give customers more options for further engagement.
By becoming familiar with these locksmith Facebook Ads formats, locksmiths can maximize their advertising efforts and reach wider audiences on a variety of scales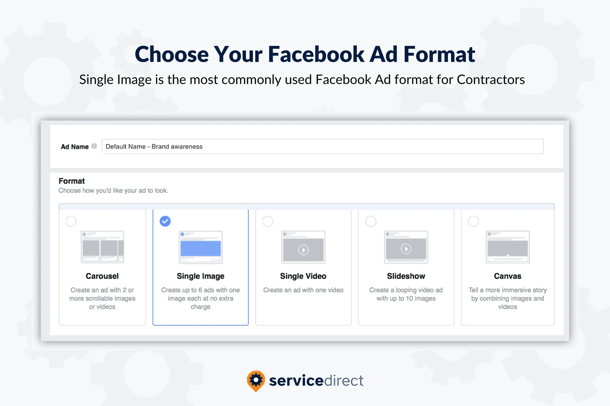 defining Ad Budgets
Establishing a locksmith's ad budget is the foundation for crafting an impressive, effective Facebook Ads campaign. It locks in the parameters of the locksmith's activity and ensures that a successful return on investment is achieved.
A locksmith's ad budget affects every other element of their Facebook Ads campaign—from the type of creative utilized to attain maximum impact, to deciding which markets, geographic regions or age demographics should be targeted for greater reach and conversion.
When defining a locksmith ads budget, it is important to focus on critical elements like research, strategy, testing, and optimization so that their ads are visible in front of the right people.
With a thoughtfully crafted budget and careful use of funds, locksmiths can enjoy engaging Facebook Ad campaigns while protecting their bottom line.
don't forget about ad audience Retargeting
When tailoring your Facebook Ads to the right audience, never forget to utilize audience targeting. This process can help to extend and refine your advertising strategies to ensure success with each pixel.
Through audience targeting, you will be able to tailor ads to users who fit into a desired demographic and provide the best returns on your investments.
Whether you are looking to target an age range or those who have previously interacted with your page, utilizing targeting should always be a priority. With slight changes to audiences, you can create and launch targeted campaigns that drive specific goals for your business.
Don't miss out on this valuable tool by forgetting about audience targeting for your Facebook Ads!
Ad Audience targeting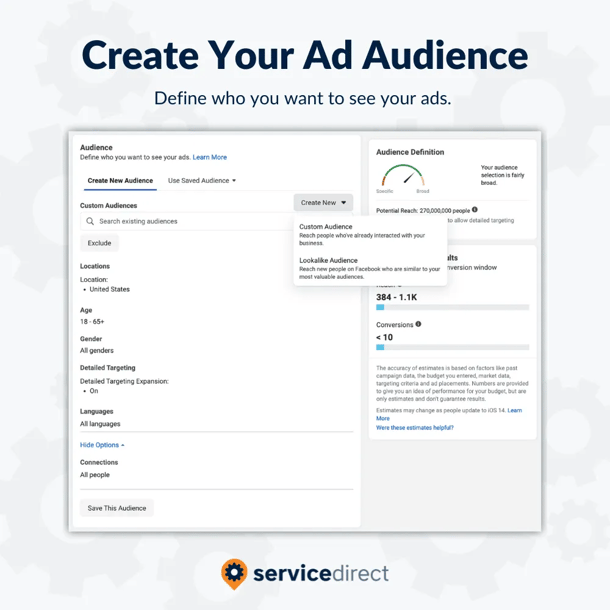 Examples of Good Facebook Ads for Locksmith Companies
Locksmith Facebook Ads are an effective and efficient way to reach your audience. They allow locksmith experts to share engaging content in a short burst of time and clearly communicate their services and their results.
Examples of locksmith Facebook Ads can include posting testimonials from clients, showcasing videos of locksmith technicians hard at work solving locks, or highlighting the security locks that locksmiths specialize in.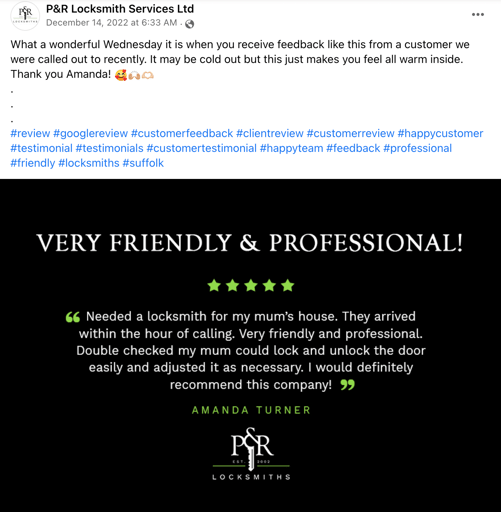 These are all great ways for locksmiths to engage with potential customers, build trust, and drive clicks.
Creating a well-rounded Facebook Ads campaign is the key to success for your locksmith business. Keep in mind the various factors we discussed, from effective ad copy to targeting the right audience.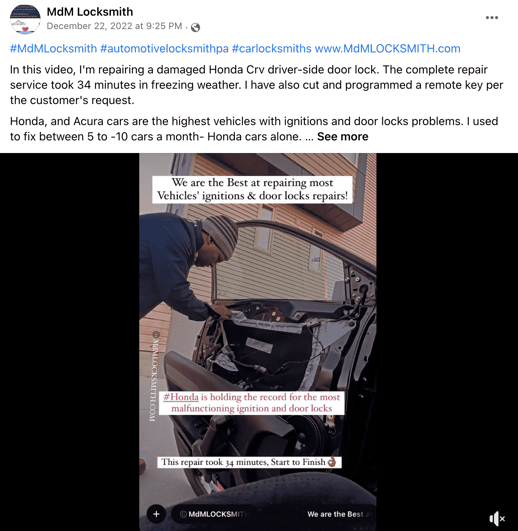 Source: MdM Locksmith
By utilizing these tips, you'll be sure to generate more leads than ever before. And if you're looking for more help with marketing your locksmith business, be sure to read our marketing guide for helpful tips.
Thanks for reading and good luck!
Related Content