May 24, 2023 by Service Direct
How to Start a Locksmith Business
If you're looking for a new business venture and have an interest in home security and service businesses, starting a locksmith business could be the perfect fit. Locksmiths are in demand for their skills in opening and repairing locks, making duplicate keys, and providing security advice to their clients.

Additionally, service businesses like locksmiths tend to provide a higher level of job security because people are always going to be in need of certain services. Of course, opening a locksmith business isn't as simple as just deciding it's something you might want to do.

As with any new business, you will need to put in time, effort, and money to ensure you are setting your company up for success from day 1. This process is not going to be for everyone, but with a little patience and persistence, you'll be well on your way to becoming the premier locksmith in your area.

In this article, we will discuss the profitability of owning a locksmith company, the types of services that locksmith companies offer, the necessary training and certifications required to start a locksmith company, common mistakes made when starting a locksmith company, and more.
Is Owning a Locksmith Business Profitable?
Owning a locksmith company can be a profitable business, depending on several factors such as location, competition, and demand.
The demand for locksmith services remains high due to the constant need for security in homes and businesses. Plus, the locksmith industry is growing, with the smart lock market expected to expand at a compound annual growth rate in the U.S.
The revenue potential for a locksmith business ranges from $95,000 to $440,000 per year, with a profit potential between $75,000 and $130,000 per year. With the increasing popularity of smart locks and new security systems, now is a great time to start a locksmith business.
Of course, it's important to remember that these numbers will vary depending on location, the type of services you provide, and the marketing strategy you will employ throughout the inception of your locksmith company.
But, put simply, owning a locksmith company can be highly profitable.
The Types of Services Locksmiths Should Offer
When starting a locksmith business, consider offering the following services:
Residential Locksmith Services: These involve picking, designing, installing, and maintaining mechanical and electronic locks on homes.
Commercial Locksmith Services: Working with commercial clients such as businesses, state and local governments, and schools.
Emergency Lockout Services: Locksmiths are often called in emergencies, such as when a homeowner is locked out of their house or when a business owner has lost the keys to their store.
Key Cutting and Duplication: Locksmiths can make duplicate keys for homes, cars, and businesses.
Installation and Repair of Locks: Locksmiths can install new locks and repair existing ones.
Security Systems: Locksmiths can provide advice on security systems and install them for their clients.
Safe and Vault Services: Locksmiths can open, repair, and install safes and vaults.
Automotive Locksmith Services: When someone locks their keys in their car or can't find the key to a vehicle, locksmiths can help open their cars.


The services listed above encompass most of the types of jobs local locksmiths perform. You don't need to have the skills or tools to service all of them. In fact, we'd recommend starting small with simple lock repairs and residential jobs and expanding from there as you gain more experience.
Additionally, If you encounter a need for less-common services, we recommend taking those jobs on a case-by-case basis depending on your capabilities.
Licensing and Other Qualifications for Locksmiths
Before starting your locksmith business, ensure you meet the requirements for your state. Many states are going to have varying requirements so it's important that you do your due diligence to ensure you are qualified to perform locksmith services in every state that you may service from your existing location.
Obtain a locksmith license and check the legislation in your state for any additional regulations. Some states may require a criminal background check for approving a business license. There are also steps that you might need to take on a federal level such as obtaining any industry-specific permits or health checks.
According to Bizfluent, 14 states require locksmiths to have a license. These states include California, Texas, North Carolina, and more. Before you begin to take locksmith jobs, you'll need to make sure you have the proper licensing if you are in one of these states.
Additionally, some states issue different licenses to locksmith businesses than they do to individual locksmiths. We know it can seem overwhelming to determine what exactly your state requires of you at the beginning of your locksmith journey.
Your best bet will always be to contact your local county and city government. This will help ensure you are taking the necessary steps to start a legitimate locksmith business!
Common Mistakes to Avoid When Starting a Locksmith Company
With the fact that about 20% of small businesses fail in their first year, 28% fail by their second year, and nearly 50% fail after five years in business, it's crucial that you do everything you can to ensure your locksmith business is not another statistic!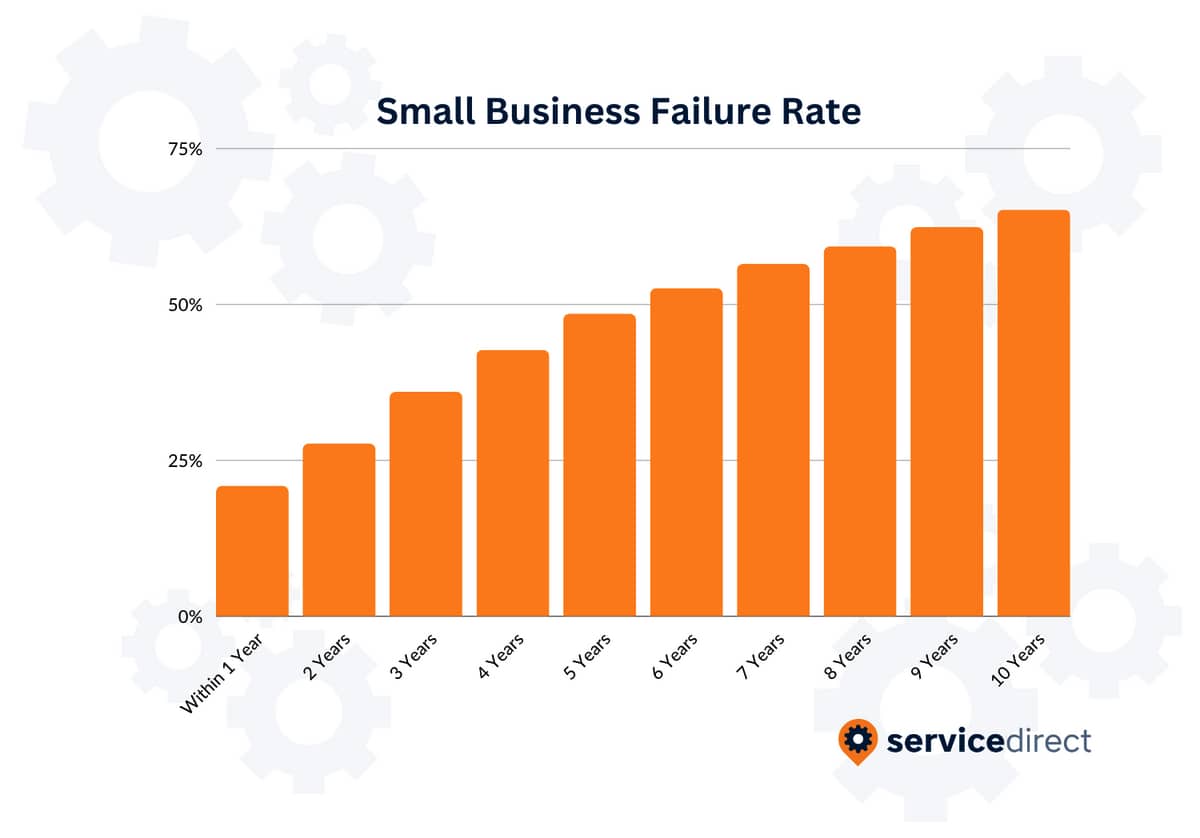 Data Source
Keep these common mistakes in mind to stay ahead of the competition and make it through that tough 5-year beginning.
Not having a solid business plan: Create a detailed business plan that outlines your goals, target market, and strategies for growth.
Underestimating startup costs: Startup costs for a locksmith business range from $2,500 to $7,500, depending on your level of experience and the tools you need. Plus, it can take some time before you are in the green on a monthly basis for your small business, so having a financial safety net is key.
Ignoring marketing and advertising: Utilize various marketing strategies, such as social media, online advertising, and referrals from family and friends. For small businesses with limited budgets, you'll want to look into free marketing resources and SEO strategies if possible.
Not investing in ongoing education: You'll want to take locksmithing classes whenever possible to keep your locksmith skills and business acumen on point.
Not staying up-to-date with technology: Technology is continually changing, and it's essential to stay current with new security systems and tools, as well as digital assets that can make maintaining your online presence easier.
Failing to build a trustworthy reputation: Building trust with clients is crucial for success in the locksmith industry. Provide excellent customer service and maintain a professional image.
By avoiding these common mistakes and following the steps outlined in our guide to starting a locksmith business, you'll be well on your way to starting a successful company.

And don't forget—making mistakes is an essential part of becoming business savvy. You'll never be able to avoid mistakes 100% of the time. As long as you learn from the mistakes you make and don't make any catastrophic ones, your business will flourish!
Step-by-Step Guide to Start a Locksmith Business
Clearly, there's a lot to consider when you're thinking about starting your own locksmith company. But once you've decided that it's what you want to do, how exactly do you go about forming and launching a business?
Here are 11 important steps to take if you want to start your locksmith business:
Research the local locksmith market
Write a comprehensive business plan
Register your business with the government
Get the necessary locksmith training and certifications
Acquire relevant business licenses and permits
Open a business bank account
Choose a physical location and buy locksmith equipment
Hire a great team
Develop your company's marketing strategy
Network in the industry and local community
Provide great customer service
Check out our detailed Step-By-Step Guide to Starting a Locksmith Business for a deeper look at what each of these steps entails.
Conclusion
If you're interested in starting a locksmith company, the tips in this article will help you put the right foot forward from the beginning. And don't forget—passion is the key ingredient to thriving as a small business.
Once you get your feet underneath you with these simple steps, you'll be well on your way to becoming the premier locksmith in your area. For more detailed tips and tricks, download our step-by-step guide to starting your own locksmith company.