February 15, 2023 by Taylor Stafford
Knock Down the Competition with a Locksmith Company Website that Converts
Are you looking to give your locksmith business a boost? If so, one of the best things you can do is invest in a high-quality website.
A website that looks great and functions well will help you attract new customers and convert leads into paying clients.
But how can you create a locksmith company website that converts? Keep reading to find out!
Make sure your website is running properly
When you're building a locksmith marketing strategy, the last thing you want is to successfully attract potential customers to your website, only to realize your site isn't performing as well as it could be.
That's why it's important to make sure all your technical bases are covered from the very beginning of the design process. Things like load page speed, mobile compatibility, and image compression might not seem fancy but they play a huge role in ensuring your locksmith website is up to par with customer expectations.
Investing some extra time in these setup elements will ensure that users have a smooth and enjoyable experience when navigating your site.
Have clear calls to action
When it comes to locksmith websites, having clear calls to action (CTAs) should be top of mind for business owners. Not only can CTAs help your locksmith clients find what they're looking for quickly, but modern searchers expect concise, informative calls to action that provide an intuitive doorway into the locksmith services they need.
A misplaced or confusing CTA can cost you potential customers, so make sure your calls to action are placed clearly and succinctly throughout the locksmith website.
Doing so ensures that customers who come looking for locksmith services don't leave frustrated and empty-handed.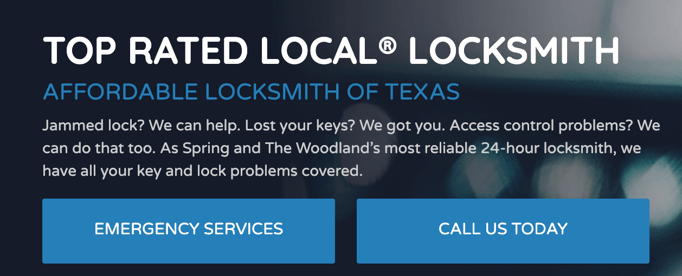 showcase your customers' experiences
People have a habit of relying on the opinions of others when it comes to making decisions, especially when they are investing in services. That is why locksmith websites should actively seek feedback from their customers and allow them to tell their own stories.
This not only empowers people with the freedom of choice but will lend trustworthiness to the locksmith's website.
Reviews are invaluable as a PR tool for locksmiths, as potential customers will know exactly what to expect from their service before committing any money.
Testimonials from existing customers can reflect how satisfied they were with their locksmith experience and encourage future clients to buy into your business.
Allowing your customers to tell their own stories is an effective way for locksmiths to engage with people.

Quick Safe and Keys Service Los Angeles
write content that's easy to understand
When creating content for a locksmith website, it is always important to write clear and concise copy. A locksmith's services can be complicated and readers need to quickly understand what they offer.
Clear writing ensures the message is effectively communicated without having your readers scrolling endlessly down an excessively long page. After all, people in need of a locksmith don't have time to devote hours deciphering jargon.
For maximum clarity, keep text simple and straightforward, using plain language that gets right to the point.
Making sure content is accurately written also helps readers trust locksmiths, know they are reliable and able to confidently put their locks and security needs in the chosen locksmith's hands.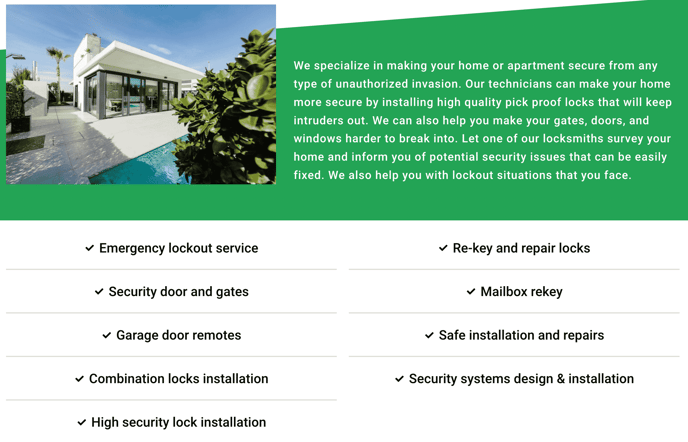 use mages, Awards, and Affiliations
For any locksmith company website looking to build trust with their customers, there are 3 key ways to do it: images, awards received, and affiliations.
Including high-quality photographs of locksmiths who work with the company conveys a sense of authority and professionalism that prospective customers will appreciate.
Posting any awards or accolades that the locksmith business has earned can add additional ways that people can communicate their expertise within their industry.
Finally, affiliations with a locksmith association remind customers that the locksmith is part of a larger community based on ethical standards. Utilizing all 3 elements can help locksmiths build trust quickly and efficiently through their website.

CA Locksmith Security Solutions
Create A video introducing your business
Creating a video overview of your locksmith business is a great way to engage potential customers. With the right professional script, simple visuals, and clever editing you can quickly and effectively showcase what makes your locksmith business unique.
The goal of such a video would be to inform viewers about who you are, the services you offer, as well as demonstrate how reliable and trustworthy your locksmith team is.
Appropriate visuals like locks being serviced or replaced, locksmiths at work, or your company logo on the locks being installed should be included in the introduction. This gives potential customers an insight into what they can expect when hiring locksmiths from your website.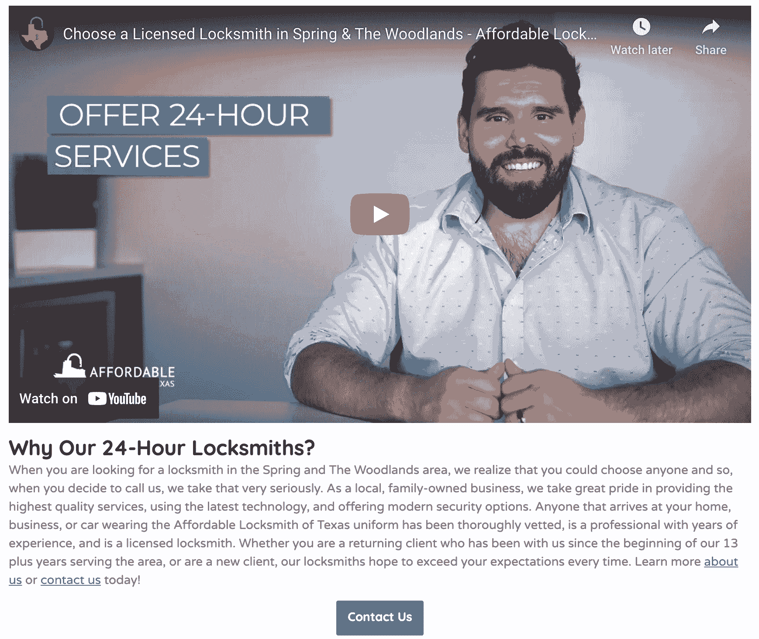 To be clear, Your website is the foundation of your digital marketing efforts, so make sure it's solid. In addition, calls to action should be highly visible and specific, as this will lead to more conversions.
Additionally, allow customers to tell their own stories on your site—this will create a sense of community and trust.
Always write clear and concise content, as this will keep people engaged. And finally, use images, awards, and affiliations on your site to further build trust with potential customers.
If you want to learn more about how to market your locksmith business online, check out our locksmith marketing guide!
Related Content