February 16, 2021 by Molly Weybright
How To Generate Plumbing Leads With PPC Search Ads
Updated on February 7, 2023
As a plumbing company, you are always trying to get ahead of the competition in your area and drive more high-quality leads to your company. One of the best ways to do this is through paid search advertising.

In fact, 87% of small businesses listed pay-per-click (PPC) advertising as an effective part of their overall marketing strategy. Clearly, you don't want to miss out on this opportunity to drive better leads to your business!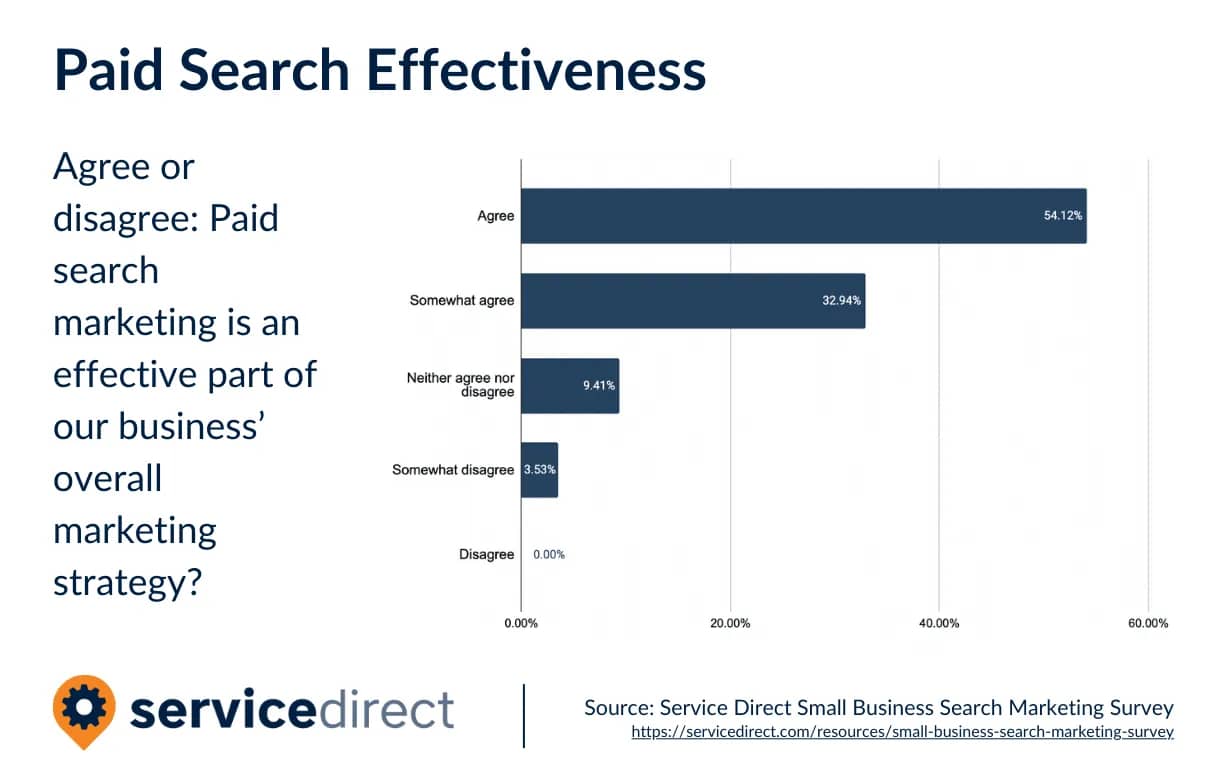 To get started with PPC for plumbers, you'll want to focus on a few key points: keyword research, tracking and reporting, and website optimization. We'll discuss in this blog those aspects of PPC advertising and more so that you can get a solid plan established.

However, 30% of small businesses listed planning and strategy as the biggest challenge with PPC, which is why, if you can establish a clear PPC plumbing plan, you'll be well on your way to using the highly effective strategy to bring in new customers.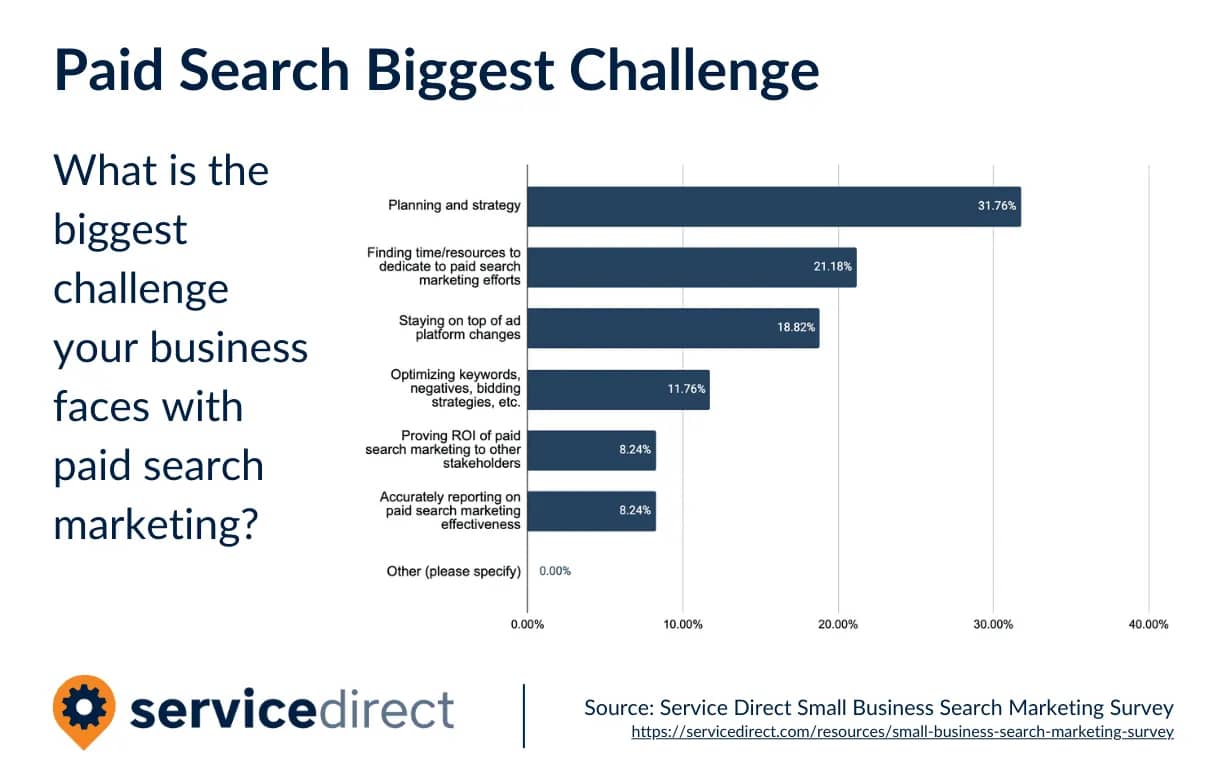 Keep reading to learn more about what your company can do to create PPC plumbing ads that will connect with potential customers in your area.
Plumbing PPC Keywords 101
One of the most important things to remember when you are creating PPC plumbing ads for your business is that you can't set it and forget it.

A major part of keeping up with your ads is ensuring that the keywords you are buying are the right ones for your plumbing business and adjusting or pivoting when they don't seem to be working.

If you're feeling overwhelmed about where to start with keywords put your domain name into Google's keyword planner and see what keywords it suggests.

While there might be some obvious keywords you can think of that customers would search when looking for a plumber, this tool helps you see lots of other phrases they also search for. It will also help you find more affordable keywords to target so you won't blow through your budget.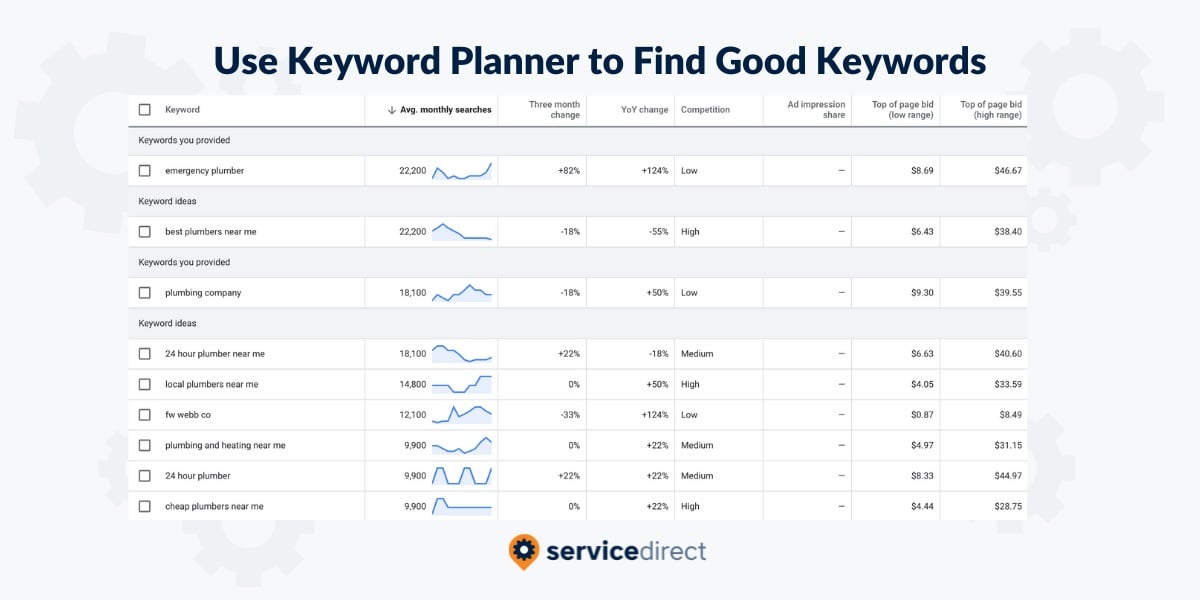 Budget, Bidding, and Performance Max Campaigns
Budget: Google makes it easy to set a daily budget and can optimize clicks around that budget. Just make sure you've allotted enough budget to give your ads a chance to optimize and perform.
Smart Bidding: Smart bidding allows Google to automate the bidding for your ads, optimizing for conversions. The key to using smart bidding to your advantage is ensuring you are effectively tracking ad performance so Google has information to take into account when smart bidding in the future.
Performance Max Campaigns: Performance Max allows you to connect with new customers across multiple channels using Smart Bidding and automation. This tool helps small businesses achieve specific goals and reach beyond traditional search campaigns.
Negative Keywords
When it comes to PPC plumbing ads and your budget, keeping up with negative keywords is almost more important than making sure you are bidding on the keywords you want to advertise for.

You can easily spend thousands of dollars driving people to your website who aren't even looking for a plumber and will never turn into customers.

In order to prevent those expenses, you want to do everything you can to set those keywords as negatives before they take out a huge chunk of your budget.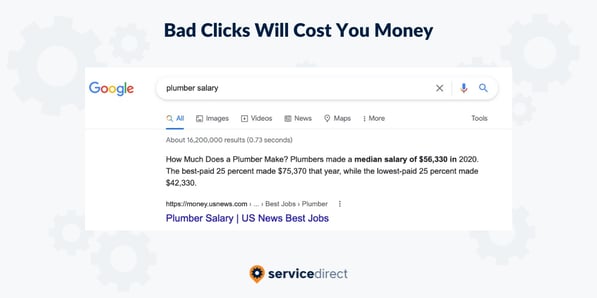 The only problem? There really isn't a great tool out there to help you stop bad clicks before you buy them. Luckily for you, we've spent tens of thousands of dollars on bad 'plumbing' clicks and know exactly which negative keywords you should add to your Google ads campaign!
PPC Plumbing Ad Reporting and Tracking
Along with having a handle on keyword negatives for your PPC plumbing ads, you'll want to figure out a way to monitor your campaigns' performance that works for you.

We recommend creating multiple campaigns and ad groups in your Google Ads account so that you can try out different combinations of keywords to see what results in the most conversions.
Fortunately, there are a number of ways to track your campaigns and 91% of small businesses find it easy to monitor the effectiveness of their paid search marketing!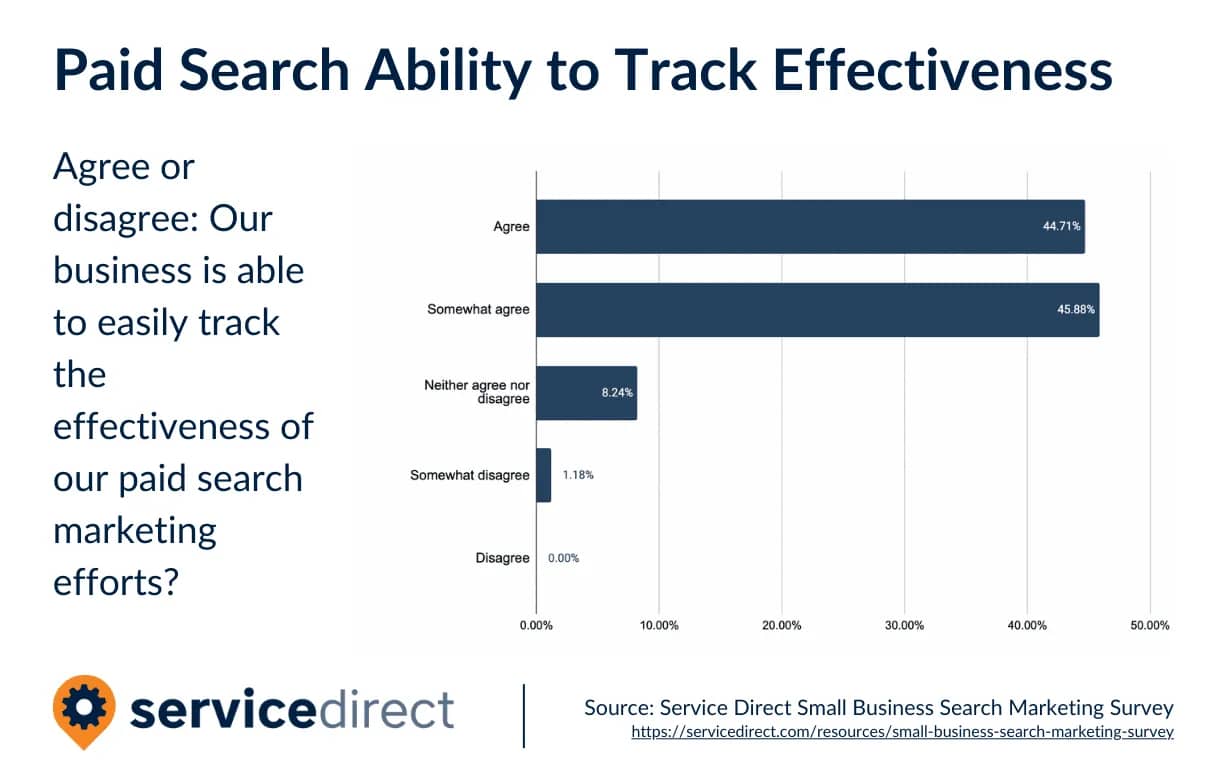 In order to monitor how those ads perform you will need to have certain tracking systems in place.
Conversion Tracking
Conversion tracking is a free tool provided by Google that allows you to monitor what happens after a customer clicks on your ad.

The tool allows you to monitor many different actions, but for your plumbing business, you will most likely want to track phone calls or form entries from potential customers seeking your services.

With conversion tracking, you will need to be patient. When getting started, as shown in the above image, you will likely have multiple ads for each ad group and the best way to determine their success is to give it time and see how they perform via conversion tracking.

Google is a wealth of information, which can be overwhelming. We recommend keeping it simple to start by looking at the conversion rate, cost per conversion, and overall conversion columns.
Quality Score
Another important metric provided by Google that will help you have high-performing plumber PPC ads is Quality Score.

Quality Score is a ranking assigned by Google that depends on how well your ads are aligned with what people are searching for when your ad shows up in their search results. In other words, are the searcher's needs met when they click on your ad?

A low Quality Score would indicate that something isn't lining up between your ad copy and the searcher's intentions.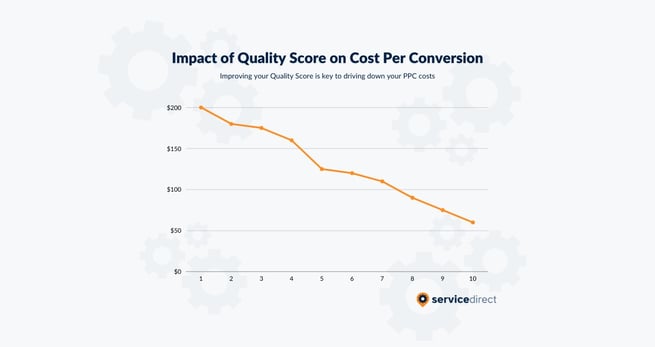 Service Direct results based on PPC plumbing campaigns we run for our in-house plumbing traffic
It's important to note that the Quality Score of your PPC plumbing ads should not be used as the singular metric when monitoring your ads. While you want to pay attention to the Quality Score, we recommend using it as a supplemental tool for determining ad performance on top of conversion tracking data.

You want to aim for a Quality Score of 7 or higher for your ads. Anything below that will make the costs of your ads too expensive and could mean the difference between making money and losing money on Google.
3rd-Party PPC Plumbing Tools
In addition to the quality resources provided by Google, there are a number of other companies that provide PPC tools that might find useful in your strategy. From optimization tools to reporting and attribution tools, there is something out there for every situation.

Plus, with 30% of companies not using 3rd-party tools, this is an opportunity for you to get ahead of some of the competition!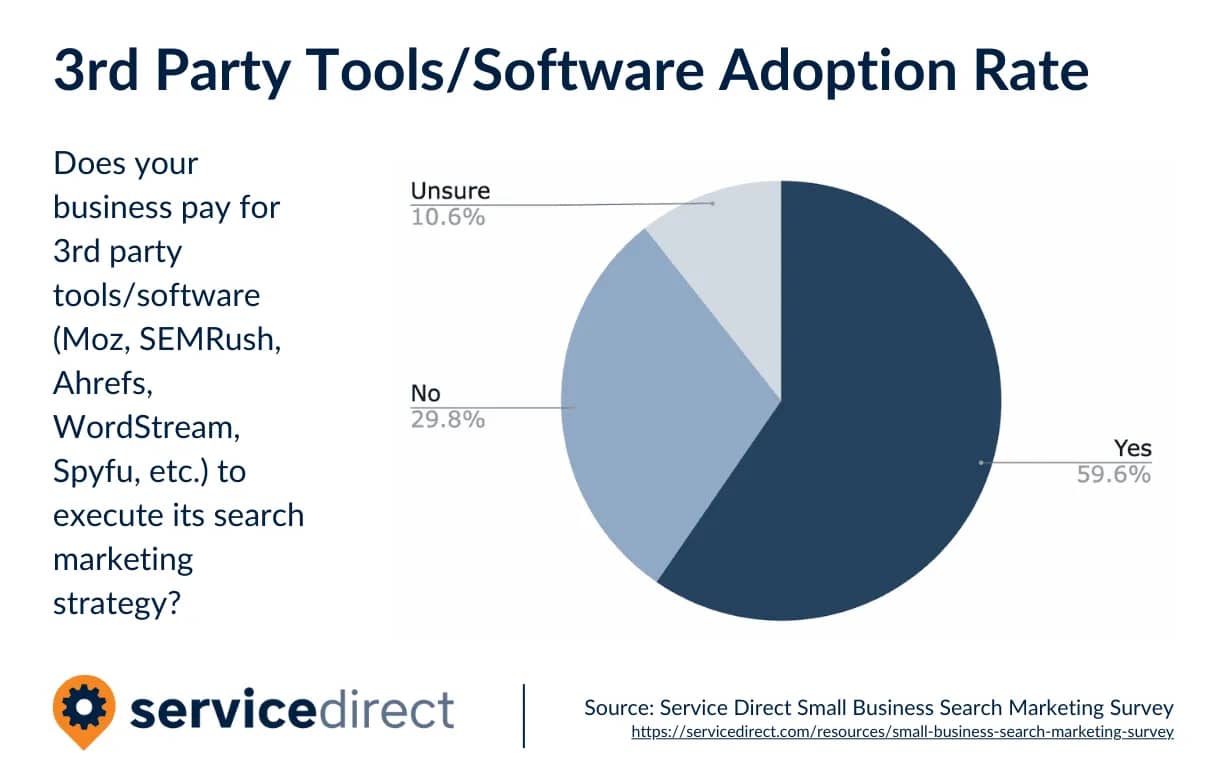 However, it's important that you take the time to research your options before jumping headfirst into any 3rd-party tool. Looking at where your plumber PPC strategy could use some extra help and where you have room in the budget will help you determine what direction you want to go in.
Types of PPC Tools:
Management: Where you can create paid ads and post them in order to connect with customers.
Research: Tools that help you research keywords and competitors to determine where to allocate your budget.
Reporting: How you will track the progress of your PPC campaigns and make adjustments to improve their performance.
Landing Page: Tools to help create and host dedicated landing pages for your PPC ads.
Optimization: Automation tools that will allow you to optimize your PPC ads.
Attribution: Will help track the progress of potential customers that came into contact with your paid search campaigns.
Plumbing Website Essentials
So far we've been focusing on the PPC plumbing ads themselves, but it's also important that your plumbing PPC ads are sending searchers to a high-quality website designed to convert.

In fact, we found that it is worse to have a bad website than no website at all. Customers are not going to trust your plumbing company if your website is low quality.

Obviously, this is important for your business, but it's also a strong signal to Google that people that click on your ads are finding the information they are seeking. This in turn allows Google to optimize your ads to drive even more conversions for your plumbing business!
Appearance and Performance
Write content that is useful. Whatever content you have on your website should be well-written and concise. This is a great place to add keywords to boost the organic search result ranking of your website on search engines like Google.
Have clear calls to action. Make it extremely easy for someone to know how to get in touch with you. You want your CTAs to align with what the searcher wants to do. For example: Call 555-555-5555 for emergency plumbing services today.
Make sure the site loads quickly. The longer it takes for your site to load, the less likely people are to find what they want. Make sure your site loads quickly on both desktops and tablets/mobile devices using this tool.
Optimize it for mobile. 66% of consumers are searching for small businesses on their mobile devices. Make sure your website is mobile-friendly and that it loads on mobile devices quickly.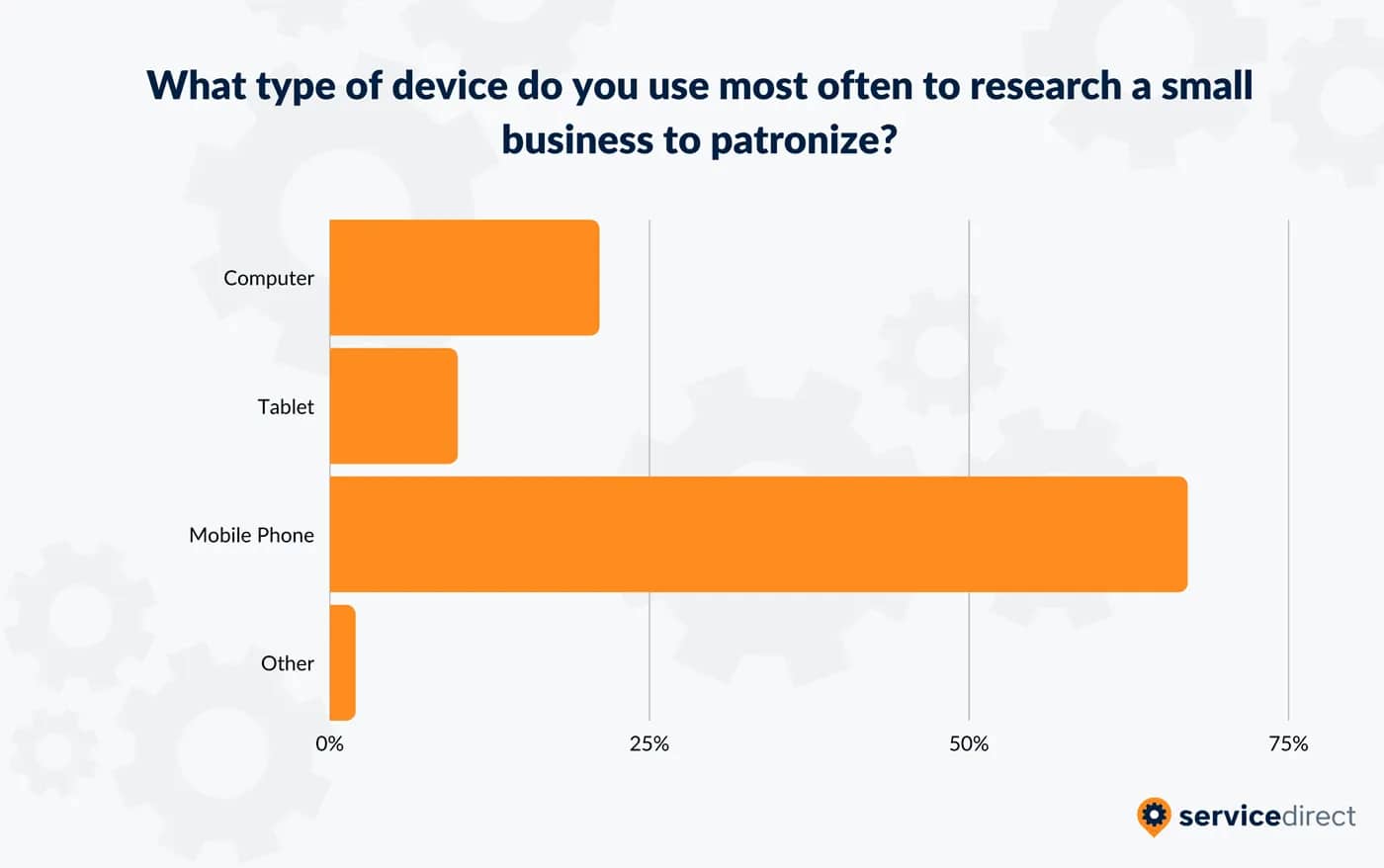 LANDING Pages
If you're putting all this work into creating quality PPC plumbing ads, you want to be sure that you are encouraging conversions every step of the way.

Creating dedicated landing pages for your ads is one way to do this, as 86% of small businesses would agree. These PPC landing pages are highly-specific and well-designed and are created for the sole purpose of making it clear what potential customers need to do to book your services.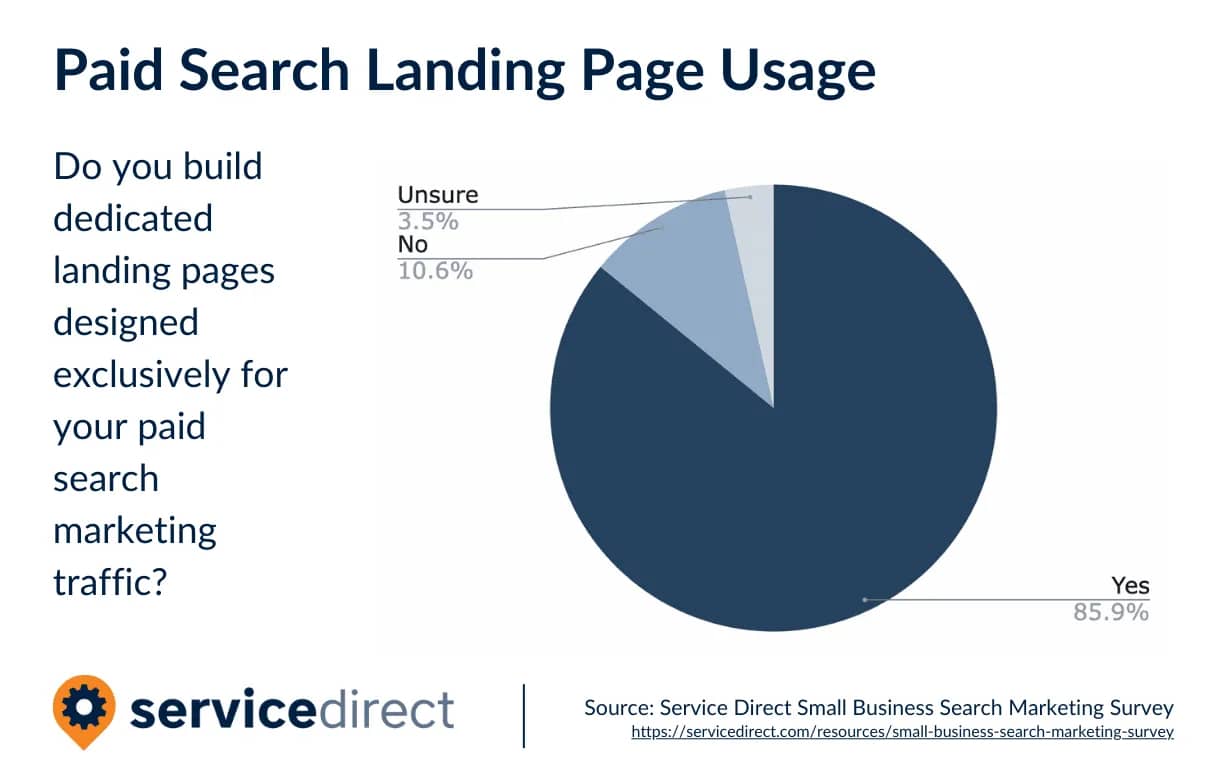 Having landing pages allows you to redirect searchers to a page focusing completely on what they need rather than sending potential customers to your homepage.
LANDING Page Examples:
Emergency Plumbing
Sump Pump Services
Sewer Rooting
Trenchless Plumbing
Water Heater Repair & Installation
Pages for Each Location You Service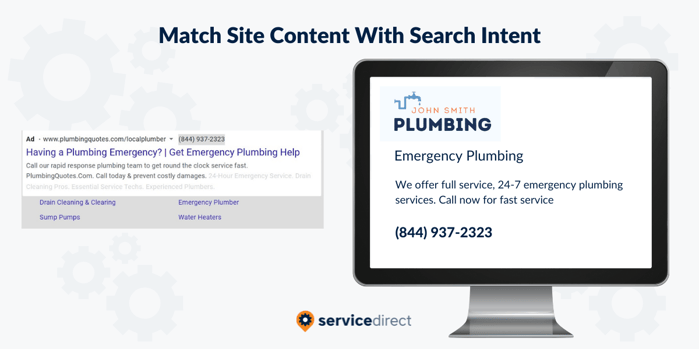 Send people directly to the service type they need, and make sure that page not only provides them with useful information about that service but also that they can quickly and easily get in touch with you.
In Conclusion
Most plumbing companies don't find success through PPC ads for a number of reasons. Primary among them is they end up spending money on traffic that doesn't convert into customers. With some of the changes Google has made to its ads, it's easy to let bad spending run away from you.

Following the tips listed in this blog and downloading our free plumber marketing guide will help ensure you start on the right foot with plumbing PPC advertising and stay on track!


Related Content