December 11, 2020 by Taylor Stafford
HVAC Advertising Examples And The Anatomy Of A Google Search Ad
Advertising for your HVAC business can seem intimidating with the abundance of information and competition online. But like most things, once information is broken up into pieces and seen in an organized fashion, retaining the details of creating a successful ad is much less overwhelming. In order to get the most out of your HVAC advertising efforts, learning the anatomy of an ad is essential. Since your ad will most likely be next to 10 other HVAC ads that are up to standards, your ad needs to be strong enough to not only compete, but beat the other ads in your location. After understanding all the moving parts of effective ads and looking into top-quality HVAC advertising examples, you'll be able to successfully apply your knowledge to your own HVAC ads and see excellent results!
The Anatomy of an Ad

Start With a Keyword-Focused Headline
Every HVAC ad needs a headline. But what makes a headline effective not only for being seen by potential clients but being clicked on? First things first, your headline must use strong keywords in order to show up near the top of the search engine results. Keywords are the terms people search for when looking for HVAC services. For example, if you know potential clients are searching terms like, "Hutto, TX air conditioning repair" you'll want to include as many keywords like that as possible without sacrificing the quality of your content in order to ensure potential customers see your ad.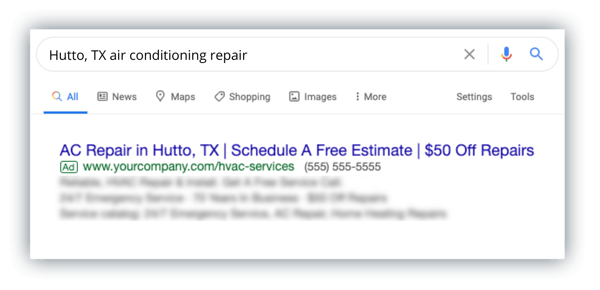 Stay away from vague headlines like, "HVAC Services Near You!" It's important to be as specific as possible to the services you offer like repairs or maintenance, the location you're in, and even highlighting something that sets you apart from other HVAC companies like a quick response time or 24 hour availability.
Use Specific Calls to Action
Your call to action, otherwise known as a CTA, should be directed toward the result that you want from your audience. It should be specific, short, and prompt them to take action. For example, instead of saying something vague like, "Call Now," say "Call now for a free estimate on your HVAC repairs!" By being specific, you're not only able to use more keywords but you're informing your audience on what to expect once they click on your ad and call your number. The more they're aware of your process and how convenient it is for them, the more likely they are to commit to a phone call. You could also mention promotions in your CTA or anything that will encourage them to click on your ad.


Don't be afraid to get creative! Adding on a little flare with something even as simple as a rhyme can be just the push you need to stand out from the crowd and get them to click on your HVAC ad instead of the ad right next to it.
Mention Highlights in Description
The description of your ad provides a perfect opportunity for you to appeal to emotion, logic, or credibility. For example, you could spark emotion in someone by mentioning their level of comfort after having their malfunctioning furnace repaired in the middle of the winter when it's needed the most. Because people tend to act quicker through emotions, humanizing your content and making it relatable to the point where it appeals to your audience emotionally could increase your chances of the ad getting clicked on.


On the other hand, logic and practicality is a huge priority for many people when looking into new services, and trust goes hand in hand with that. Going this direction provides a great opportunity to mention your 24 hour services in case they're experiencing an HVAC emergency. You could also mention low prices, free estimates, or something else that makes you stand out from the crowd and gives them a reason to pick you over everyone else. If you want to get really fancy, you could mix all three factors of emotion, logic, and trust to create a recipe for success!
Keep Quality Content Consistent Across the Board
Once you understand all the pieces of an ad and what makes it effective, the most important thing is to make sure all your advertising outlets are in sync and working effectively together. That way, your clients know that clicking on the ad has gotten them one step closer to satisfying their HVAC needs. You cannot only produce effective keywords and ads, but effective, quality content for landing pages on your website as well. As long as you're staying consistent with the quality of advertising across the board, you'll increase your chances of getting noticed on google ads as well as being called for your premier HVAC services.
As essential as quality ads are to grow your HVAC business, they're not the only thing that can help your company come out on top against competitors. Other digital marketing tools like social media, blog production, and partnering with HVAC lead generation companies that use pay per call tactics are a great way to ensure optimal results when it comes to getting more customers.