August 29, 2022 by Molly Weybright
Using PPC Advertising to Bring More Customers to Your Mold Removal Business
Mold removal is a critical service for many homeowners, which means that there is a wealth of new customers out there that need your crucial services. At the same time, there are most likely a number of competitors in your area that are also trying to snag those new jobs. If you're looking for ways to bring in more customers for your mold removal business while standing out from competitors, look no further! PPC advertising can be a great way to get new leads and customers without spending a fortune. In this blog post, we will discuss how to use PPC advertising to drive more leads and sales for your mold removal company. We'll also give you some tips on how to make sure your website is converting those visitors into customers!
PPC is an Underused Lead Generation Tactic
In today's age, one of the most trying parts of owning a small business like your mold remediation company can be standing out from other businesses like yours in your area. Not only do you have to focus on providing the best services you can for your customers, but you also have to constantly try new avenues to stand above the rest. If you're not using PPC lead generation, you could be missing out on a key method of putting yourself ahead of other companies in the area.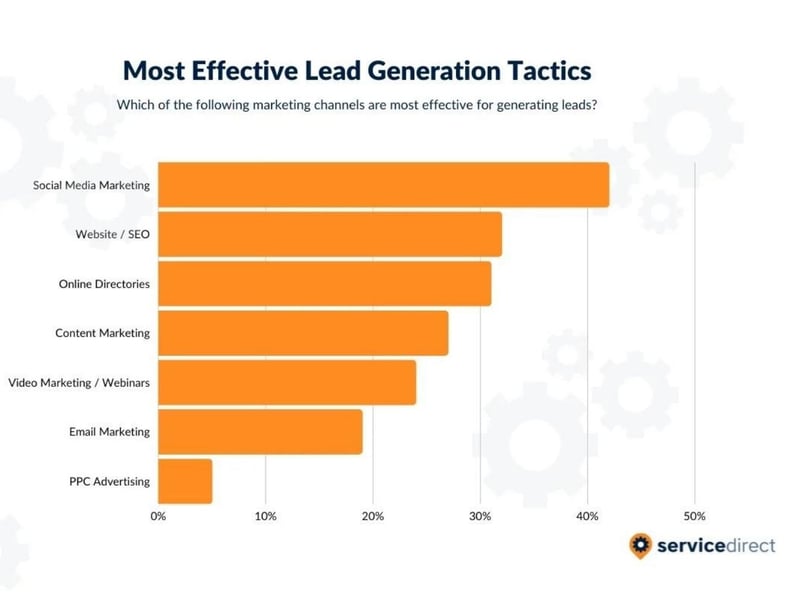 Service Direct surveyed over 250 local service businesses asking a range of questions about their marketing efforts.
How so? We surveyed 250 local service businesses about their marketing efforts and found that, despite the proven efficacy of PPC advertising, only 4% of the businesses we surveyed listed it as an effective lead generation strategy. That means that if you, as a local service company, take the time to learn how to use PPC search ads effectively you are targeting a swath of customers that other local service businesses aren't! But don't just take our word for it—take our 16-year history of spending several million dollars on mold removal ads as proof. If you follow the steps listed in this article, we believe without a doubt that your mold removal company will see the value in PPC advertising and will start bringing in tons of new customers!
Keywords and Their Role in Mold Removal PPC
PPC advertising is a rapidly evolving field, and keyword research is a critical part of any successful campaign. The most effective keywords are relevant to your product or service, have a high search volume, and are reasonably competitive. However, even the best keywords can become obsolete over time or may not be as relevant to your customers as you originally thought. That's why it's important to continually monitor your keywords and make adjustments as needed. Regular keyword research can help you stay ahead of the curve and keep your PPC campaigns relevant and effective. By taking the time to monitor and update your keywords on a regular basis, you can ensure that your mold removal PPC campaigns remain strong and responsive to the ever-changing landscape of online marketing.
Google Keyword Planner
Google Keyword Planner is a tool that helps you find the right keywords for your mold removal PPC campaigns. It can also be used to estimate how much traffic those keywords might generate and how much it would cost to bid on them. Keyword Planner can be a valuable tool for developing a PPC strategy, especially if you are just getting started and feel overwhelmed by the prospect of keyword bidding.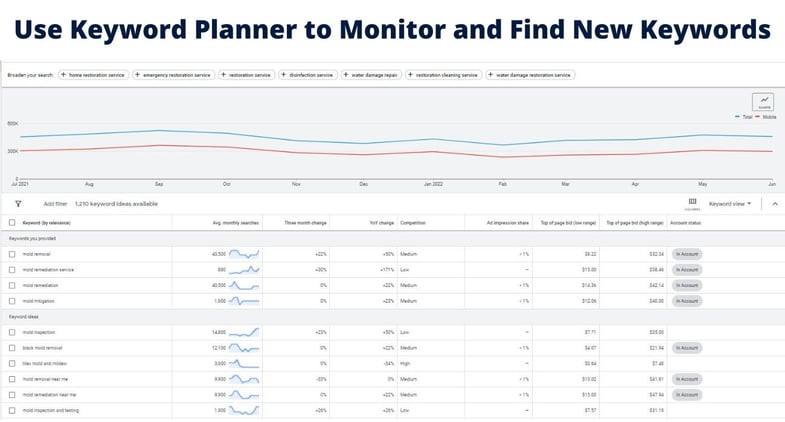 By researching which keywords are most popular and relevant to your product or service, you can ensure that your ad is seen by customers who are actually interested in what you have to offer. In addition, Keyword Planner can help you save money by bidding on keywords that are less popular but still likely to generate conversions. By using Google Keyword Planner, or any other keyword tools, you can develop a more effective and efficient mold removal PPC strategy, saving time and money in the process.
Google Keyword Budget and Smart Bidding
Google is a powerful tool in many ways, including developing a keyword budget and getting started with bidding. Taking advantage of every facet of Google's PPC ad toolset will launch your mold removal PPC advertising campaigns straight to success.
Keyword Budget
With Google, you can easily set a daily budget for your PPC ads so that you can implement your strategy without breaking the bank. This is a crucial step in ensuring you don't burn through your keyword budget right out of the gate. However, it's important to remember that in order to be successful with PPC advertising, you need to allocate enough money from the outset to see results so that you can continue to optimize your strategy. Having a budget that is too small from the beginning is similar to not having enough fuel on the plane—you won't get off the ground without it.
Google Smart Bidding
Google Smart Bidding is a tool that uses machine learning to automatically adjust your bids for each auction in order to help you get the most conversions at the best price. The idea is that by using data from past auctions, Google can predict which auctions are more likely to result in a conversion and adjust your bid accordingly. This can be a valuable tool for mold removal companies looking to get the most out of their PPC advertising campaigns. However, it is important to remember that Google Smart Bidding is not perfect and there is always some risk involved with any automated system. As such, it is important to monitor your campaigns closely and make sure that you are happy with the results before scaling up your use of this tool.
Mold Removal Keyword Negatives
Any good pay-per-click (PPC) strategy starts with choosing the right keywords. But it's not enough to just identify the keywords that you want to target. You also need to be aware of the keyword negatives - the terms that you don't want your ad to show up for. If you're not careful, you could end up wasting a lot of money on clicks that will never convert.
The first step is to make a list of all the possible keyword negatives. This might include misspellings, plural forms, and other variations of your target keywords. You'll also want to think about what mold searches you don't want to pay for, such as "ceramic molds". While this search includes the word "mold" it's most likely not the kind of mold that your company deals with, so you'll want to add it as a keyword negative. You can use tools like Google Keyword Planner and Google Trends to help you with this research. Once you have a comprehensive list, you can start adding negative keywords to your PPC campaign. This will ensure that your ad is only shown to people who are actually interested in what you're selling.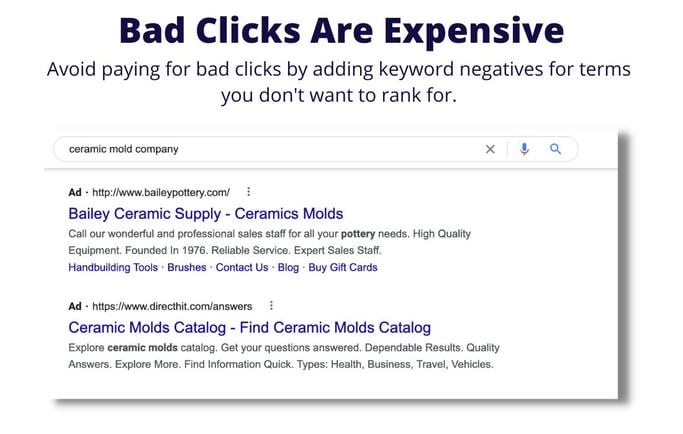 Ignoring keyword negatives can be costly, so make sure you take the time to do your research and add them to your campaign. By doing so, you'll be able to focus your budget on the keywords that are most likely to convert and maximize your ROI.
Track Your Ads with PPC Reporting
Once you have a grasp on the keywords you do and don't want to bid on in your mold removal PPC campaigns, you'll need to have a solid way to track the success of your ads. With adequate reporting, you will easily be able to see successes and failures so that you can continue to adjust your campaigns without losing out on key opportunities or wasting your money.
Conversion Tracking
Conversion tracking is an essential tool for any mold removal business using PPC advertising to generate leads. Without conversion tracking, it would be nearly impossible to know which keywords and ad campaigns are actually driving results. Conversion tracking allows businesses to see which keywords and ads are leading to clicks and, more importantly, conversions. This information is vital for making informed decisions about where to allocate resources in order to maximize ROI. Additionally, conversion tracking data can be used to improve the overall effectiveness of PPC campaigns by identifying areas of opportunity and making necessary adjustments.
We understand that the generous amount of information Google provides can be overwhelming. If you are just getting started and are feeling bombarded by data, we recommend starting small and simple with the conversion rate, cost per conversion, and overall conversion columns.
Quality Score
Quality score is a metric used by Google to determine the quality and relevance of your mold removal PPC ad. The higher your quality score, the more your ad will be seen by potential customers, and the less you will pay for each click. Quality score is based on a number of factors, including the relevance of your keywords, the quality of your landing page, and your past click-through rate.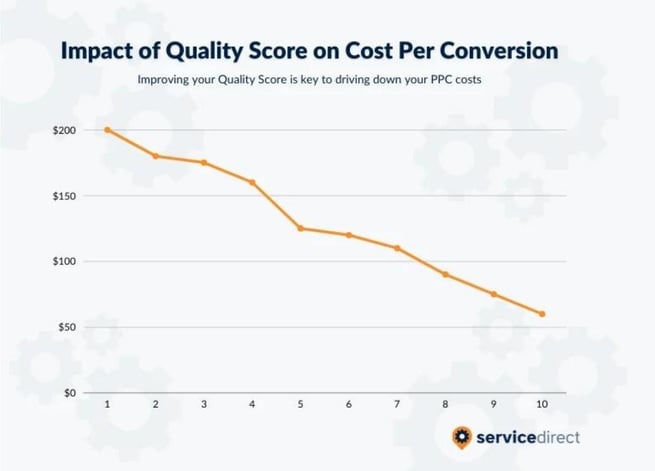 Service Direct results based on PPC campaigns we run for our in-house mold remediation traffic
In short, it is important to maintain a high quality score if you want to be successful with PPC advertising. By making sure your ad is relevant and useful, and your ads are directing searchers to a premier landing page, you can ensure that it will reach a large audience at a low cost. This makes quality score an essential metric for any business that relies on PPC advertising. A solid goal to strive for with your PPC ads is a quality score of 7 or more. This way you can be sure you are getting the greatest bang for your buck with your mold removal PPC ads.
Make Sure Your Website Encourages Conversion
Your PPC ads are only as good as your landing pages. If you're driving traffic to a page that is poorly designed, hard to navigate, or lacking in quality content, you're not going to see the results you want from your PPC campaign, no matter how well-crafted your ads may be. That's why it's essential to focus on both the quality of your ads and the quality of your landing pages. A well-designed landing page will be user-friendly and compel visitors to take action with clear CTAs. By contrast, a poorly designed page will drive visitors away without converting them into leads or customers. So if you're serious about making PPC work for your business, make sure you're paying attention to both your ads and your landing pages.
High-Quality Content
In order to encourage conversion on your mold removal site, you want to make sure the content is clear, concise, and useful to searchers. This means avoiding long paragraphs that require potential customers to sift through them in order to find the information that they are looking for. Instead, consider using bulleted lists to highlight your services and value propositions (this is also a great place to focus on adding keywords to boost your organic SEO).
Highlight Clear Calls to Action
Clear calls to action are essential in order to get the most out of your PPC ads. They help to focus the audience, increase understanding, and create a sense of urgency. Without a strong call to action, your message is likely to fall flat. Focus on what you want potential customers to do when they get to your mold removal site, such as "Call 555-555-5555 Now for Emergency Mold Removal".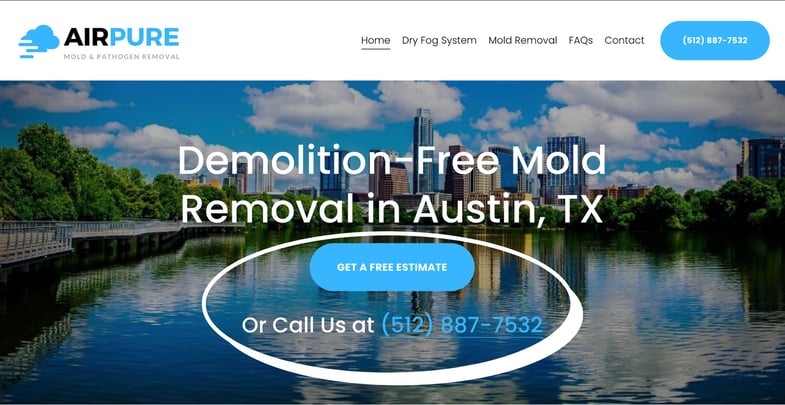 Source: getairpure.com
Use Site Pages to Encourage Conversion
As a premier mold removal company, you most likely offer a range of services that potential customers could be looking for. In order to further encourage conversion with PPC ads, we recommend creating site pages that focus on high-value, in-demand services. By directing a searcher to a page that focuses solely on what they are interested in, like emergency mold removal, for example, you are further increasing the chance of conversion.
SITE PAGE EXAMPLES:
Basement Mold Removal
Emergency Mold Removal
Mold Testing
Residential Mold Removal
Commercial Mold Removal
Crawlspace Mold Removal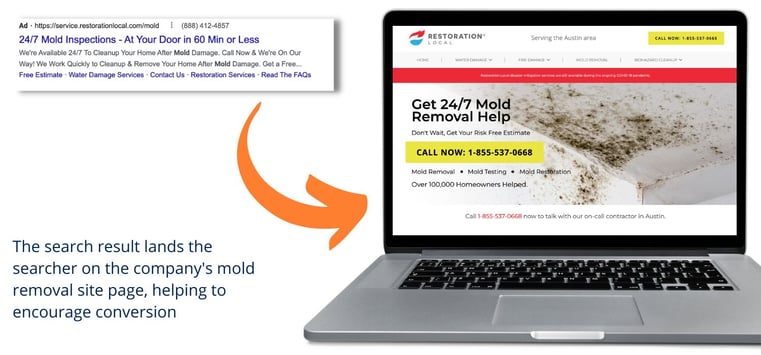 Source: restorationlocal.com
Technical Elements of Your Site
No matter how optimized your PPC ads are, if people are bouncing from your site due to poor technical elements, you are wasting money. For that reason, it's essential that you take the time to ensure your mold removal website is fast loading and optimized for mobile.
Load Speed
According to a study, 1 in 4 users will bounce from a website that takes longer than 4 seconds to load. Based on this alone, it's easy to see why load speed is directly related to the success of your PPC ads. Fortunately, there are steps you can take to increase load speed and easy tools to test the load speed of your site.
Mobile Optimization
Mobile devices account for over half of global website traffic, making it essential that your mold removal site is optimized for mobile. Otherwise, you could be losing out on a significant portion of leads simply because your site just doesn't look right on a smartphone. Taking the essential steps to optimize your site for mobile will boost the success you see in your PPC ad campaigns.
If you want to see a significant increase in the number of new customers coming through your (virtual) door, it's time to start investing in mold removal PPC advertising. It's an important lead generation tool that many home service contractors are not taking advantage of, so you can get ahead of the competition by investing the time to do so. When it comes to PPC, remember to focus on keywords, budgeting, and website performance—these will be key to seeing results from your investment. And if you need more help getting started or fine-tuning your strategy, our team is here for you. Download our mold remediation marketing guide today for even more tips on how to make PPC work for your mold removal business.
Related Content