September 07, 2022 by Service Direct
The Importance of Online Reputation Management for Small Businesses
Updated on August 17, 2023
During a 2020 survey conducted by Statista, 94% of US online customers said positive reviews increased their chances of using a business, and 92% said negative reviews made them less likely to buy from a business.
Ouch. That's a lot of missed opportunities, all due to negative reviews.
That's why it's more important than ever to be proactive about building a positive business reputation.
Fortunately for your small business, a recent study we conducted makes it clear that your customers are more than happy to share their positive experiences with your business as long as you make it easy for them to do so. In other words, just ask!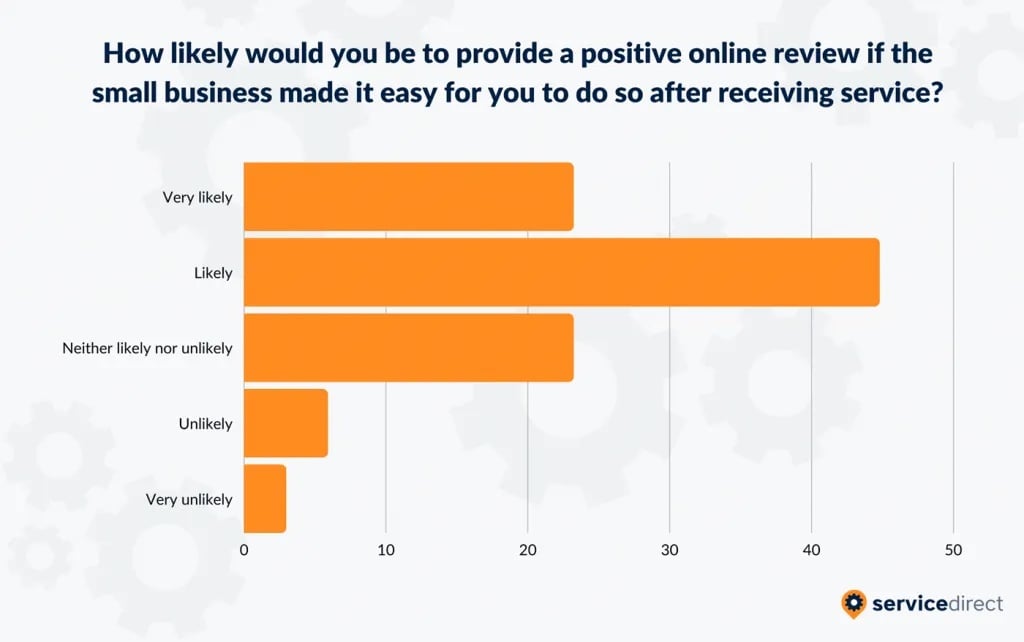 Source: 2022 Consumer Survey - What Matters to Consumers when Choosing a Small Business
Enter online reputation management.
Implementing online reputation management is essential to growing your customer base and increasing revenue.

And the best part? Small businesses can benefit from this low-cost alternative by reaching a wider audience online without investing in costly marketing efforts.

In fact, there are several platforms you can use to cast your business in a positive light and help customers learn more about what you do.

If you're ready to learn more about why online reputation management is important for small businesses, we've got the details for you.

In today's article, we're digging into what online reputation management is, how it can benefit your business, and how to manage it using a few handy tools.

Ready to learn more?

Let's begin.
What is online reputation management (ORM)?
Online reputation management, or ORM, is the practice of actively managing your business's reputation in the online space.
Your primary goal when using ORM is establishing a correct, consistent, and organized search landscape that accurately represents your business as a whole.
To implement ORM, you'll integrate practices that allow you to manage the information that's out on the web about your brand.
For instance, by clearing up any misconceptions about your business or services with a "from the owner" post on your Google Business Profile. Or actively monitoring brand mentions and visual products on social media. Or responding to negative reviews respectfully and with a solution-focused approach.
Whatever tactics you choose to use, the goal is always the same: Building a healthy brand reputation you can sustain for years to come.
Small business reputation management best practices
Now that we've laid the groundwork, let's take a look at 4 best practices you can implement to boost your brand reputation.
Stay Compliant with Industry Regulations and Certifications
In today's online world, there are many data and privacy laws that a business must follow to protect their customers' information and maintain a strong level of trust. Not remaining compliant can end up costing your small business its reputation, so it's important to dot your i's and cross your t's when it comes to these regulations.

Businesses that use cookies (small pieces of data that gather helpful information to make data-driven decisions) should be especially aware of new privacy laws.

Customers have the right to determine how their information and data will be used and tracked, so businesses must create a formulated cookie policy to obtain their consent. This isn't exactly a walk in the park, so using a cookie consent tool becomes useful for owners looking for an easy solution to crafting a policy, adding a banner to your site, and handling cookies.

Showing prospects and customers that you're compliant with industry regulations and certifications is critical to building trust.
Example: Suppose you are starting a new courier business. Any new potential customers want to know you can reliably deliver their documents/packages. To give them faith that your business can deliver, consider displaying DVIR and other inspection details in a question-and-answer format so that potential customers know you take seriously ensuring your vehicles are fit for delivery. To go the extra mile, consider displaying training certifications and educational merits on your website, too.
Here's another example from a brand called HelloRache:
In this example, HelloRache builds trust by showing off what kind of training its healthcare virtual assistants go through. This casts HelloRache in a positive light and nudges prospects that may have been on the fence about trying the service closer to conversion.
Create an SEO strategy
While there is no shortage of ways your potential customers can learn about their problems and how to solve them, Google remains the go-to source for this information. As such, consumers place a high level of trust in Google and that trust is transferred to websites that Google has determined best meet the searchers' needs.

So if you are looking to create more trust and improve your company's online reputation, consider widening your audience reach by creating and implementing an SEO strategy.

Before crafting your strategy, consider the type of industry you're in and your outreach goals, as well as any SEO tools accessible to you.
Then, conduct research to see which SEO best practices make the most sense for your brand.

When in doubt, lock arms with an SEO strategist or SEO content agency for support. While it requires an ongoing commitment in terms of both effort and money, it can pay off huge dividends once Google views your website as a go-to resource for potential customers using its search engine.
Utilize Google, Yelp, and Facebook Reviews
Remember the jaw-dropping review stat we mentioned at the beginning of this article? 94% of online shoppers in the US are more likely to buy if a business has positive reviews—and 92% are less likely to buy if a business has negative reviews.

To build up your small business's reputation, make sure your business is live on Google, Yelp, Facebook, and other review sites so customers can drop their ratings and opinions. Although generating reviews may seem difficult, it's key to managing a top-tier reputation.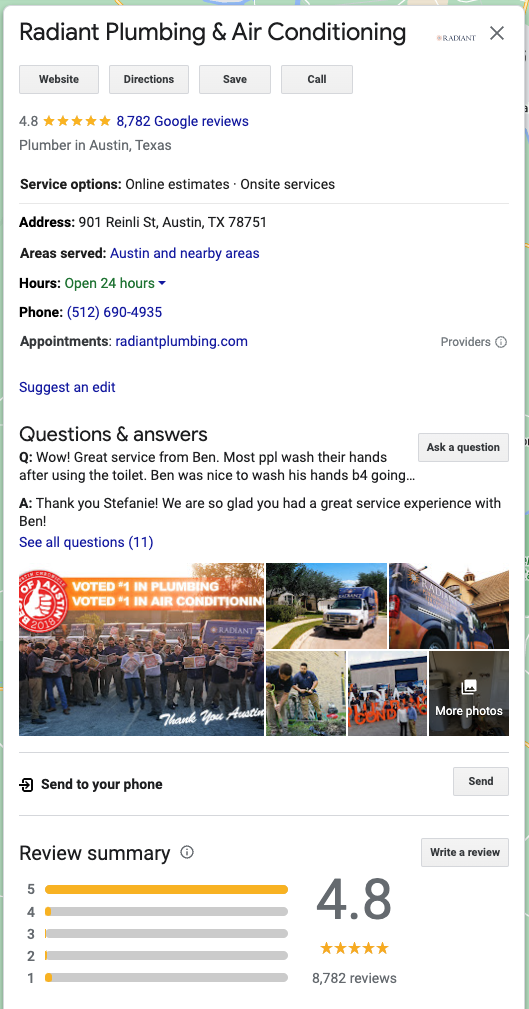 Image Source: Radiant Plumbing & Air Conditioning Google Business Profile
There's a caveat here, though. It's absolutely essential that you respond to every review with care.

So, thank every positive reviewer for taking the time to support your business. As far as negative reviews go? Don't take them personally, but do take them seriously. Respond with respect, care, and a solution when possible. Never argue with a negative reviewer.
Resource: Examples of How to Handle Negative Reviews
Create Tight-Knit Social Media Communities
Having a social presence is vital to building a strong online reputation. In fact, 91% of retail brands use 2 or more social media accounts to nurture their target audiences.
To create tight-knit social media communities, be sure to discover which channels your target audience frequents most. For instance, if your target audience consists of mostly Gen Z-ers, then TikTok should absolutely be in your social media marketing arsenal.
You might even consider partnering with influencers to expand your reach and connect with your community on a deeper level. Depending on the size of your business, micro-influencers might be very valuable in your social media strategy.
You'll also need to spend time discovering more about your audience's pain points and core needs so you can create valuable and engaging content for them.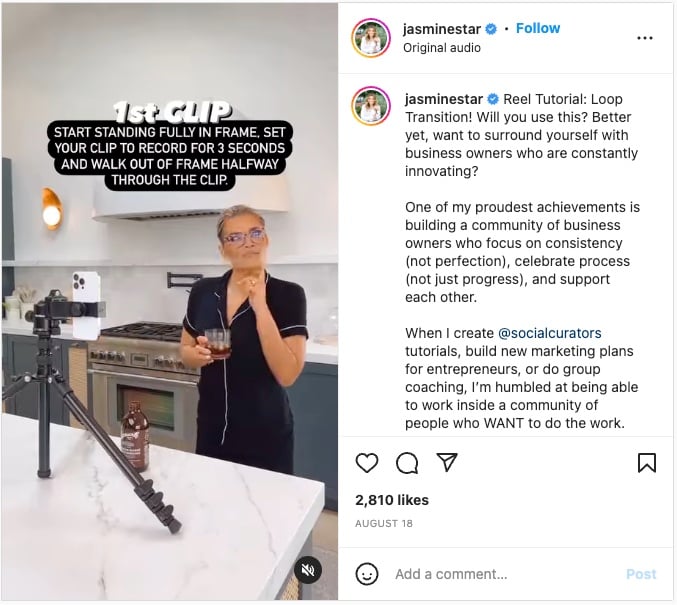 Image Source
By engaging your potential customers where they are, you help humanize your brand which helps them put down their barriers and become willing to engage with you. Social media networks are simply your best opportunity to begin to form that relationship built on trust.
Benefits of ORM for Small Businesses
At this point, we've covered what ORM is, why it's important, and 4 best practices you can implement to boost your brand reputation. But what exactly makes managing your small business's online reputation worth all this trouble?
Increases Your Business's Valuation
Taking a proactive approach to ORM is crucial if you decide to sell your business one day.
Your brand's reputation is one of your business's greatest assets and can boost your business's valuation, so be sure to take it seriously.
Without a doubt, when acquisitive groups are looking to purchase small businesses, they not only look at P&L statements, but also factor in the company's reputation when determining whether to buy the company and at what evaluation.
So if you ever envision yourself exiting your small business, protect your online reputation!
Improving Your Business
There's nothing like the sting of making mistakes and dusting yourself off so you can try again. That said, learning from mistakes is a crucial part of building a successful small business.

Managing your online reputation isn't solely about focusing on getting 5-star reviews all the time. It's also about understanding what your customers think about your products/services, support, etc. And the reality is you can't make everybody happy, but you can learn something from those times when you left something to be desired.

ORM can help you distinguish flaws in your business so you can correct them and build a healthier small business going forward.
Increase Sales and Revenue
It's no secret that a small business's reputation directly affects its sales and revenue.
In fact, even more so than with large brands, a small business's lifeblood is its reputation. The healthier that reputation is, the more likely customers are to talk about your business and its products/services, which in turn will lead to an increase in sales and revenue.
But of course, the opposite is true, too. Should your small business not protect its online reputation, you run the risk of losing the trust of potential customers. Absent the ability to overcome that trust deficit, you're going to end up losing out on sales.
Yep, ORM is a big deal.
Build a Loyal Customer Base
Look to any small business with a great reputation and you'll find a loyal customer base right along with it.
And the reason for that is simple.
Customers are loyal to brands that model integrity and value their reputations.
Think about it. Would you continue to frequent the same frozen yogurt shop if the brand was notorious for using old products and getting customers sick? We'd say … no.
On the flip side, would you continue buying from the same frozen yogurt shop if the brand was known for fresh and delicious flavors and a happy customer base? Most likely, yes.
Additionally, we've found that 50% of consumers are more likely to patronize a business that is involved in supporting the community through charitable causes. When you pair top-tier customer experience with something like working with a charity, your reputation will soar.
How to Manage Online Reputation
And finally, don't forget to take advantage of simple tools that can help you manage your online reputation.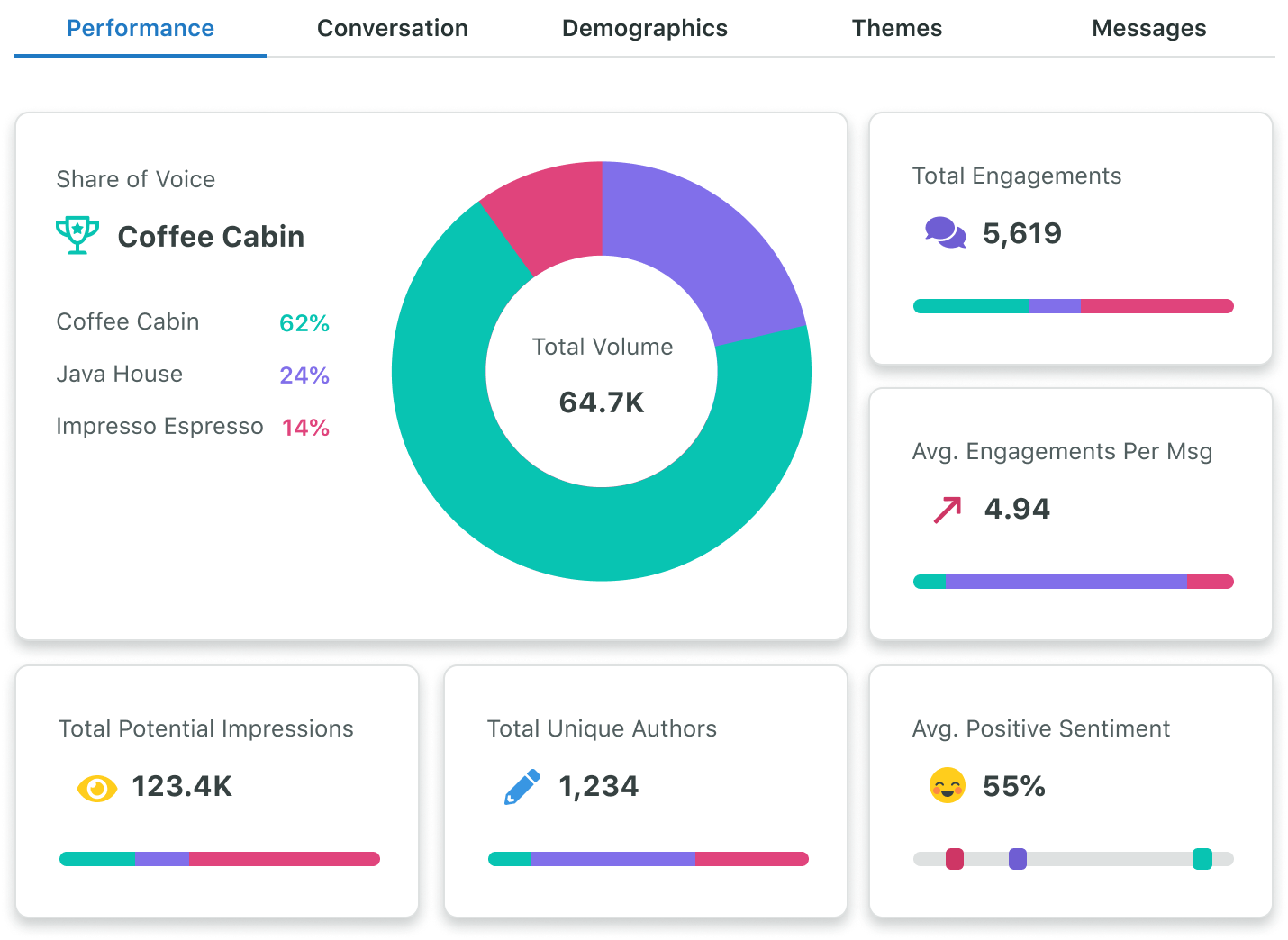 Image Source
Here's what we recommend:
Conclusion
Today we took a deep dive into all things online reputation management.
Together, we discovered:
What online reputation management (ORM) is
Best practices of ORM
Benefits of ORM for businesses
How to manage ORM using a few simple tools
Pretty interesting stuff, right?
While building a solid reputation doesn't happen overnight, implementing a few strategic practices can help you establish a consistent search landscape that accurately depicts your business.
For good measure, here's a quick recap of the ORM best practices we covered today:
Stay compliant with industry regulations and certifications
Create an SEO strategy
Utilize Google, Yelp, and Facebook reviews
Create tight-knit social media communities
Monitor and respond to all brand mentions—especially negative reviews
Never argue with a negative reviewer
Save time with automation tools
And that's it for today! Are you ready to boost your brand's online reputation? We hope the tips we've shared will help you discover how to hit your goals and build a strong and healthy brand reputation for years to come.