September 10, 2022 by Molly Weybright
How to Build a Marketing Plan for Your Electrician Business
Updated on March 20, 2023
It's no secret that electrician businesses need a well-executed marketing plan to thrive in today's digital age.
Potential customers are searching online for information on the best electrician companies to work with, and if your business isn't visible where they're looking, you'll lose out to the competition, especially when 75% of small businesses are already using search marketing.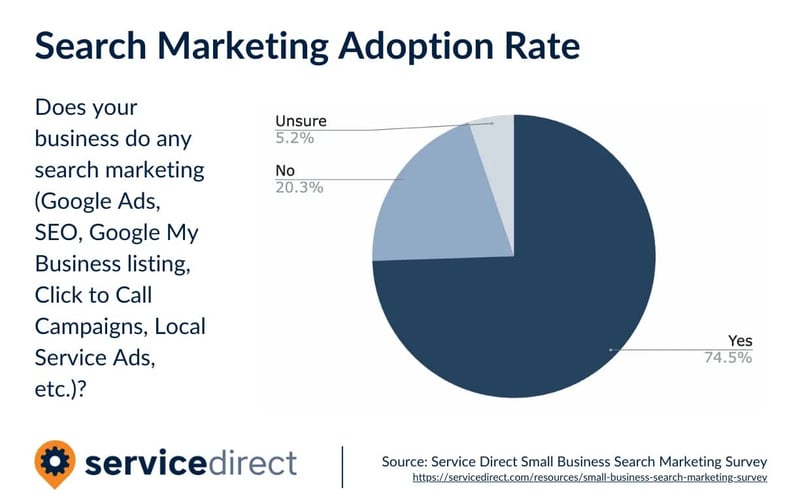 But where do you start?

A successful marketing plan for your electrician business begins with understanding your company's mission statement and market positioning. Once you know who you are and what you offer, you'll want to set realistic goals and create a budget. From there, it's time to choose the right tools for the job to go above and beyond.

The reality of the situation is that over 60% of businesses have a documented marketing plan in place, which means your company also needs one to avoid falling behind the competition.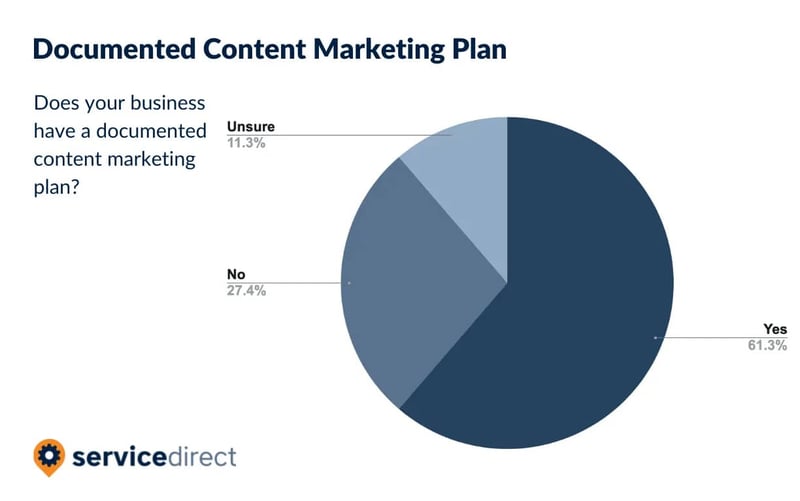 In this blog post, we'll walk you through each step of building a marketing plan that will help your electrician business grow!
Getting Started With Digital Marketing
Marketing your business online can feel like a daunting task, especially if you're starting from scratch. However, by taking it one step at a time, you can create a plan that is both effective and manageable.

The first step is to take a step back and define your business. What is your mission statement? How are you going to connect with customers so that you stand out as more than just another electrician company?

Once you have a solid footing on your company's brand, you can begin to create content that will help you reach your target audience. By taking it one step at a time, you can avoid feeling overwhelmed and see real results in no time.
Put Time and Thought Into Your Mission Statement
A company's mission statement is its reason for being—what it hopes to accomplish in the world.

A clear, well-defined mission statement gives employees and shareholders a common goal to strive for and lets customers know what the company is all about.

In today's marketplace, where customers have more choices than ever before, it's increasingly important for companies to have a strong connection to their target market—the potential customers they want to reach.
"Marketing is no longer about the stuff you make, but the stories you tell."
– Seth Godin, Author and Entrepreneur
By writing a mission statement that resonates with people, your electrician company is already beginning to create a lasting relationship with them. After all, customers are more likely to do business with a company that shares their values and has a clear sense of purpose.
That's why an important place to start with your electrician digital marketing plan is by taking a close look at your company's mission statement if you have one and putting sufficient time and thought into creating one if you don't.
Dealing with some writer's block? Check out these inspiring mission statements to get a better idea of what your mission statement might look like.
Start Strategizing by Determining Market Positioning
As an electrician, you know that digital marketing is essential to reaching new customers and growing your business. But what you may not realize is that your market positioning is just as important as your website or SEO strategy.
In order to succeed in the digital world, you need to carefully consider your target audience and determine how you will fit in the market to meet their needs and stand out from the competition.
When it comes to market positioning, there are 2 main factors to consider: who your target audience is and what needs they have that aren't being met by your competition.
Once you've identified these key elements, you can begin to settle on your market positioning and articulate how you meet the needs of your target audience better than anyone else. Keep in mind that your positioning should be unique, relevant, and believable—if it isn't, you'll have a hard time convincing potential customers that you're the best electrician for the job.
Keep these questions in mind throughout the entire process as you strategize to stand out in your market:
SERVICE

How does your electrician business stand out from the competition?
What clear ways will your business help solve the everyday problems of your customers?
Do you have service offerings that are designed to gain the trust of new/potential customers?

PEOPLE

How are you positioning your job offerings to attract the best employees?
Is your mission designed to empower employees as well as customers and higher-level management?
Is every employee aware of the clear roles they play in the company?

PRICE

Are your electrician services priced fairly to not only offer value to customers but to ensure you are respecting employees' time and effort as well?
Do you have practices in play to ensure your customers are continuing to add value to your company?
Are you considering what your competitors are charging to make sure you are aligned with the industry in your area?

PROCESS

What communication channels do you have in place/plan to put in place to connect with potential customers?
How are you communicating with existing customers to keep them tuned into your services?
Have you taken the time to consider the general ways that your electrician business is making your customers' lives easier?
Are you instructing your employees to support customers emotionally and financially during your services?
Establish Realistic and Trackable Goals
The next step in generating your successful electrician marketing plan is to establish realistic and trackable goals. Without a clear understanding of what you want to achieve, it will be impossible to create an effective plan or gauge your progress.

For electricians, some common goals might include attracting new customers, increasing brand awareness, or generating leads.

When setting new goals, it's important to remember that they should be specific, measurable, achievable, relevant, and time-bound (SMART).

Once you have determined your goals, you can continue moving forward with a digital marketing strategy that will help you achieve them.
OKRs and Their Role in Marketing Goals
For small businesses, the process of goal setting can be especially challenging, something that the team at Service Direct has experienced.

One popular framework for goal setting that worked wonders for us is the OKR (Objectives and Key Results) system. OKRs help small businesses clarify their goals, measure progress, and stay accountable.

There are 3 important parts to an effective OKR system: objectives, key results, and measures.
Objectives are the big-picture goals that your electrician business wants to achieve.

Key results are the specific, measurable steps that will help to achieve those objectives.


Measures are the metrics that will be used to track progress toward the key results.



The key to setting OKRs is to find the right balance between challenge and achievable so that employees feel motivated to achieve the objectives.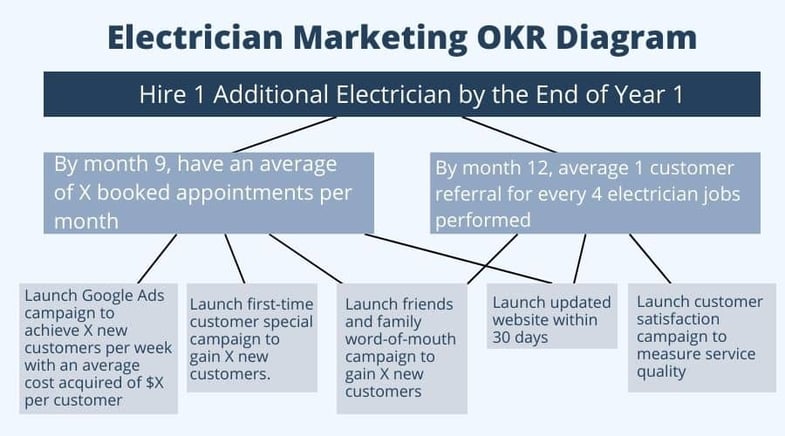 Our top tips for OKRs include starting small, involving employees in goal setting, and using technology to track progress. With a little planning and effort, any small business can successfully implement the OKR system and reap the rewards.
Choose Which Marketing Channels Work Best For You
With the vast array of digital marketing channels available today, it can be difficult to know which ones to use for your business. As an electrician, you have a lot of options available to you, but not all of them will be equally effective in achieving your goals.

Some channels may reach a wider audience, while others may be more targeted. And some may be more expensive than others. So how do you choose the right digital marketing channels for your business?

Let's look back at those goals you just laid out: What are you hoping to achieve with your marketing campaign? Once you know what you want to accomplish, you can begin to narrow down your options.
If you're looking to reach a wider audience, then curating your Google Business Profile or starting a lead generation partnership could be a good fit.
If you're aiming for a more targeted campaign, then channels like pay-per-click or email marketing may be a better fit.
Once you've considered all of these factors, you'll be in a better position to choose the digital marketing channels that will work best for your business!
Don't Forget to Set a Realistic Budget
Speaking of taking cost into consideration when determining which marketing channels work best for your electrician company, budget is an incredibly crucial part of your marketing plan.

Careful budgeting ensures that your marketing initiatives are properly planned and organized, and it also allows you to track your progress and return on investment. Moreover, a budget can help ensure that you stay within your means and avoid overspending on tools or marketing initiatives.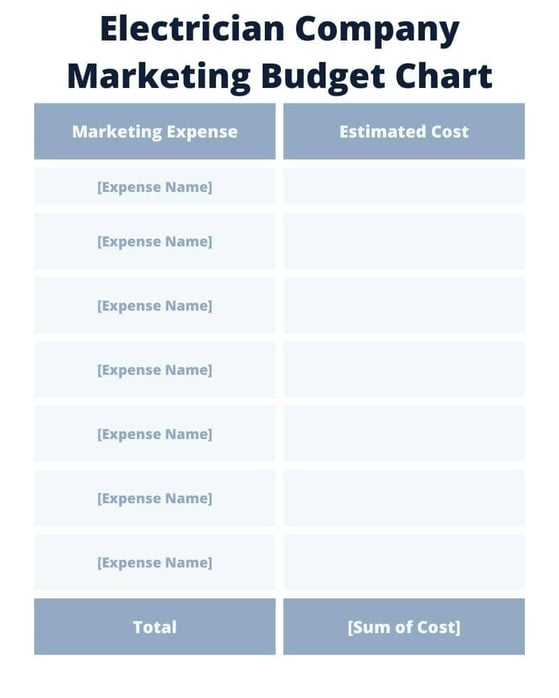 When creating your digital marketing budget, you should consider a number of factors, including the scope of your projects, the cost of marketing labor, and the individual and overall prices of marketing outlets.
By taking the time to set a budget, your electrician business can be set up for success in the ever-changing world of digital marketing.
Stand Out in the Market With Digital Tools
In today's digital age, marketing campaigns cannot afford to be haphazard or based solely on intuition.
With so much data available at our fingertips, it's crucial to take advantage of tools that can help track and manage progress, set realistic goals, and monitor success rates. By doing so, you can help your electrician company stand out from the competition.
In fact, 30% of small businesses report not using 3rd-party tools as part of their marketing strategy. This means that there is an opportunity to set your small business ahead of other electricians in your area.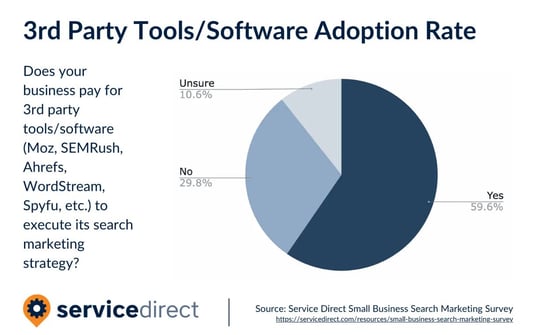 There are a variety of tools available that can help with different aspects of digital marketing, from PPC and social media analytics to SEO. But which ones are right for your electrician business? And how can you make sure you're getting the most out of them?
Use multiple tools to get a well-rounded view of your online presence and performance. Try not to be too reliant on any one platform.
Make sure you're tracking the right metrics. What works for one business might not be as important for another. Figure out what's most important for your bottom line and focus on those numbers.
Keep an eye on your competitors. See what they're doing and try to stay one step ahead.
Use data to inform your decisions, but don't be afraid to trust your gut sometimes too. The best campaigns are often a mix of both art and science.
By following these tips and using the right tools, you can start to see real results with your digital marketing strategy.
in conclusion
So, what are you waiting for? Start using these digital marketing tips and techniques to bring in more leads for your electrician business.

And if you want to go even deeper into this subject, be sure to download our free guide on marketing for electricians. In it, we cover everything from setting up your website to running effective PPC campaigns. Thanks for reading!
Related Content