June 16, 2022 by Molly Weybright
Grow Your Roofing Business With This Roofer Digital Marketing Plan
Updated on March 17, 2023
As a roofing company, it's important to have a well-defined marketing plan in order to reach your target market and grow your business.

In today's digital age when everything and everyone is online, you need an effective digital marketing plan to connect with new customers. It's important that you have a strategic roofing marketing plan in place to help you create a cohesive message across all aspects of digital marketing, including paid advertising, search engine optimization, and even content marketing. 61% of small businesses have a documented plan. In other words, you can't afford to miss out on this.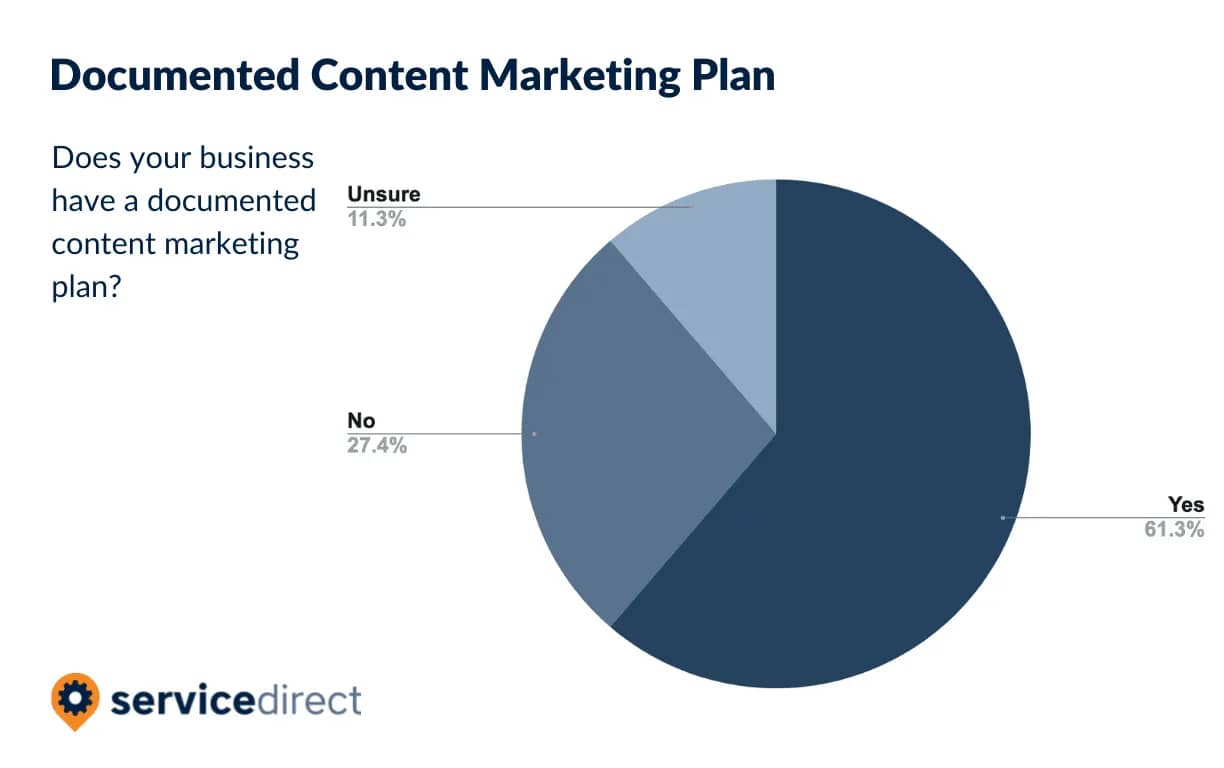 Not only will your roofer marketing plan define your company and determine how people think of your business before even communicating with you, but it will also help you keep up with competitors. This is especially important when you consider that 75% of small businesses report using search marketing.
In this blog post, we will outline the critical components of a small business marketing plan and provide tips to smooth the planning process including settling on a business summary, determining a budget, and learning how to track and record your marketing goals.

By taking the time to create and implement a marketing plan you will almost certainly see the growth in your roofing business that you are looking for!
Start With Defining Your Business
As a small business owner, it is important that you take the time to define what your business is and what it stands for. This will not only help you market your business more effectively, but it will also ensure that your employees are clear on the company's values and goals.

When everyone is on the same page, it will be easier to provide excellent customer service and build a reputation as a reliable roofing company. Furthermore, a well-defined roofing business will be better prepared to weather any storms that come its way, whether they are literal storms or metaphorical ones.

So take the time to think about what makes your roofing company unique and use that to create a strong foundation for your business.
What is Your Mission Statement?
As any successful businessperson will tell you, it's essential to have a clear and concise mission statement before you start actively marketing your company.

Your mission statement should encompass your overall goals and values as a business, and it should be something that inspires both you and your potential customers.


"Your brand is a story unfolding across all customer touchpoints."
– Jonah Sachs, author and entrepreneur
For a roofing company, it's especially important to have a strong mission statement, since your business is built on trust. After all, when someone hires a roofer, they're entrusting you with one of the most important parts of their home.

Therefore, your mission statement should reflect your commitment to quality workmanship and customer service. By having a solid, inspiring mission statement from the outset, you'll be in a much better position to attract new business and build long-lasting relationships with your clients.

If you're having trouble getting started, try using a mission statement generator.

But don't forget—your mission statement needs to be wholly unique to your roofing company, so be sure to tweak these ideas until they truly encompass everything you stand for as a company.
How Does Your Company Fit Into the Market?
As a roofing company, it is important to understand where you fit into the overall market in order to create an effective marketing strategy. There are many roofing companies out there, so it is essential to make yours stand out.

One way to do this is by emphasizing what makes your company unique. Maybe your roofing company is the only one in the area that offers a certain type of roofing material or has a team of certified installers. Maybe you're family-owned with deep roots in the local community.

Whatever it is, be sure to highlight those differences in your marketing strategy.
SERVICE

In what ways does your roofing company go above and beyond other companies in your area?
Put simply, how can your services help solve your customers' problems?
Are there elements to your roofing services that directly instill trust in the customer that you are the one for the job?



PEOPLE

In what ways are you making your company attractive to the best employees?
How are you empowering your employees to work toward the company's mission/goals?
Have you clearly defined every employee's role in the day-to-day and overall processes?

PRICE

Are you fairly pricing your roofing services in the eyes of the customer? What about pricing that respects you and your employees' time and energy?
Do you have practices in place to ensure customers are providing value to your company?
Are you checking your competitors' pricing to make sure that you are positioning yourself fairly in the market?

PROCESS

How are you communicating with potential customers in your area?
Are you taking the time to make sure you are staying in touch with existing customers?
Are you taking the time to consider how your roofing company is valuable to customers and is making their lives easier?
Do you have processes in place to support customers financially and emotionally during the roofing process?
You should also keep in mind your target audience and what they are looking for in a roofing company. If you can show them that you offer what they are looking for, then you are more likely to win their business.

By taking the time to understand the market and position your company accordingly, you will be well on your way to success.

Once you create an inspiring mission statement and determine how your roofing company stands out from other companies in the area, you'll have the critical foundation of your overall roofing marketing strategy nailed down.
Next, Settle on Your Overall roofing Marketing Goals
As any marketing professional knows, setting clear and achievable goals is essential to developing a successful roofer marketing plan.

Without specific, measurable, and achievable goals, it is practically impossible to track progress and determine whether or not your marketing efforts are successful.

Additionally, when setting marketing goals for your roofing company, it is crucial not to get too caught up in the long-term goals of your business. While it is important to have an idea of where you want your company to be in 5 or 10 years, you also need to focus on what you can realistically accomplish in the next quarter, 6 months, or year.

By setting achievable short-term goals, you can ensure that your marketing plan is always progressing forward and that you are making the most of your marketing budget.
OKR Goal Tracking
As you create your marketing plan, it's important to think about how you'll track your progress. Without effective goal-tracking methods, it will be difficult to know if your marketing efforts are paying off.

By continually monitoring your progress, you can make adjustments where necessary and ensure that you're making the most of your time and money. The OKR (objectives and key results) goal-tracking methodology is one effective way to track your marketing goals.

At Service Direct, we have spent a ton of time figuring out how to effectively set and track our goals, and OKRs are by far the best solution for us and many other businesses.

This system involves setting specific, measurable, attainable, relevant, and time-bound goals. By breaking down your goals in this way, you can more easily track your progress and make changes as needed.

When used correctly, OKR goal tracking can be an invaluable tool for ensuring the success of your roofing company's marketing efforts.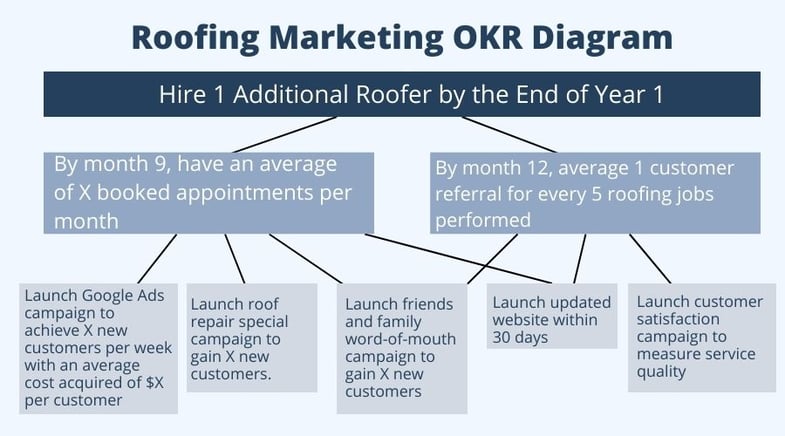 OKRs help to keep everyone on the same page and aligned with the company's overall objectives as well as help to improve communication between different teams and departments. When you set clear objectives and key results, everyone knows what they need to do in order to contribute to the company's success.

By using OKRs, you can ensure that your company is focused on the right things and making steady progress toward its goals.
Evaluate Different Marketing Channels
While there are many digital marketing channels available, not all of them will be a good fit for your roofing company. You need to evaluate all of your options and determine which ones align best with your marketing goals.

To help you get started, here is a list of some of the most popular digital marketing channels:
Email Marketing: This channel allows you to send email campaigns to a list of subscribers. Email marketing can be used to promote special offers, coupons, or other discounts.
Social Media: Social media platforms like Facebook, TikTok, and Instagram provide an excellent way to connect with potential customers. You can use social media to share useful information about your company, product, or special offers.
Search Marketing: PPC allows you to place ads on popular search engines like Google and Bing, SEO brings organic traffic to your website, and your Google Business Profile ties it all together seamlessly.
Display Advertising: Display advertising involves placing banner ads on websites and online directories. This type of advertising can be used to reach a large audience with your marketing message.

Lead Generation

: If you're looking to bring in new customers but don't know if you have the capacity to handle the full marketing strategy by yourself, partnering with a lead gen company could be a solution for you. These companies have years of experience and full teams dedicated to driving leads to small businesses.
By considering all of your options, you can decide which digital marketing channels will be the most effective for promoting your roofing company.
Settle On a Roofing Marketing Budget
As a small business owner, you know that every dollar counts. That's why it's so important to create a digital marketing budget and stick to it. By determining how much you're willing to spend on digital marketing each month, you can stay on track and avoid overspending.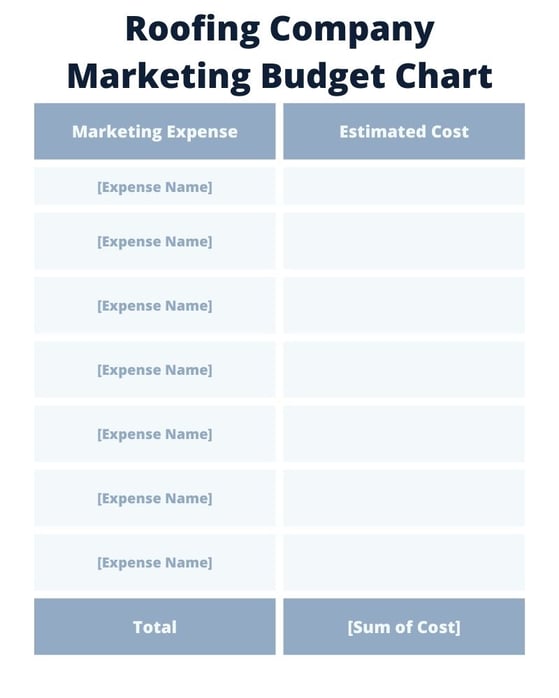 There are a number of factors to consider when creating your digital marketing budget, most of which we have already covered in this blog. But, to recap:
First, think about your overall marketing goals. What do you hope to achieve? Once you have a clear understanding of your goals, you can start to allocate funds accordingly.
Next, consider the types of digital marketing activities that will help you reach your goals. For example, if you're looking to generate leads, you may want to invest in paid advertising. On the other hand, if you're looking to increase brand awareness, SEO or content marketing might be the avenue for you. Once you know what activities you want to pursue, you can start to estimate costs.
Finally, don't forget to leave room in your budget for experimentation. As with any aspect of business, there's always some trial and error involved in digital marketing. By setting aside a portion of your budget for experimentation, you can try new things and see what works best for your business.
By taking the time to create a digital marketing budget and sticking to it, you can ensure that your marketing efforts are effective and efficient.
Finally, Learn About Digital Marketing Tools
Now that you have taken the time to define your business, set your marketing goals and budget, and decide which marketing channels are the best ways to achieve those goals, you're done, right? Not quite.

If you truly want to be successful in your digital marketing journey as well as set yourself above your competitors, you need to invest in the right tools to help you along the way. This is especially true when you consider that 30% of small businesses don't use 3rd-party tools in their marketing strategies.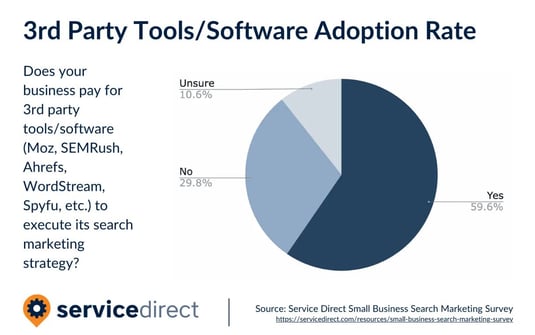 Fortunately, there are tons of tools available for supporting a PPC strategy, managing mass emails, and more. But not all tools are created equal.
You need to take the time to find the right ones for your business. Otherwise, you'll end up wasting time and money on tools that don't work for you.
The good news is that there are plenty of resources out there to help you find the right digital marketing tools. Talk to other business owners, read online reviews, and attend industry events. By taking the time to research your options, you are already one step ahead of many of your roofing competitors.
build on your roofing marketing plan with our free guide
Congratulations on making it this far! You now have a strong understanding of the basic concepts needed to create an effective roofing digital marketing strategy. To help you put these ideas into practice, we've created a comprehensive guide that goes above and beyond what we have covered here.

This guide will walk you through setting up your website, crafting your message, targeting your audience, and more. So what are you waiting for? Download our guide and start putting your plan into action today!
Related Content