September 14, 2022 by Service Direct
Stand Out in Your Market With This Mold Remediation Marketing Plan
"Marketing is really just about sharing your passion."
– Michael Hyatt, Author & CEO/Founder of Full Focus
Updated on March 17, 2023
Mold remediation businesses have a unique opportunity when it comes to marketing. Because their services are in high demand, they can be more selective with the marketing techniques they use.

Based on a survey we conducted, nearly 75% of small businesses use search marketing tactics in their overall business strategy. This means that if you want to keep up with the competition you need to be implementing key marketing efforts in your day-to-day.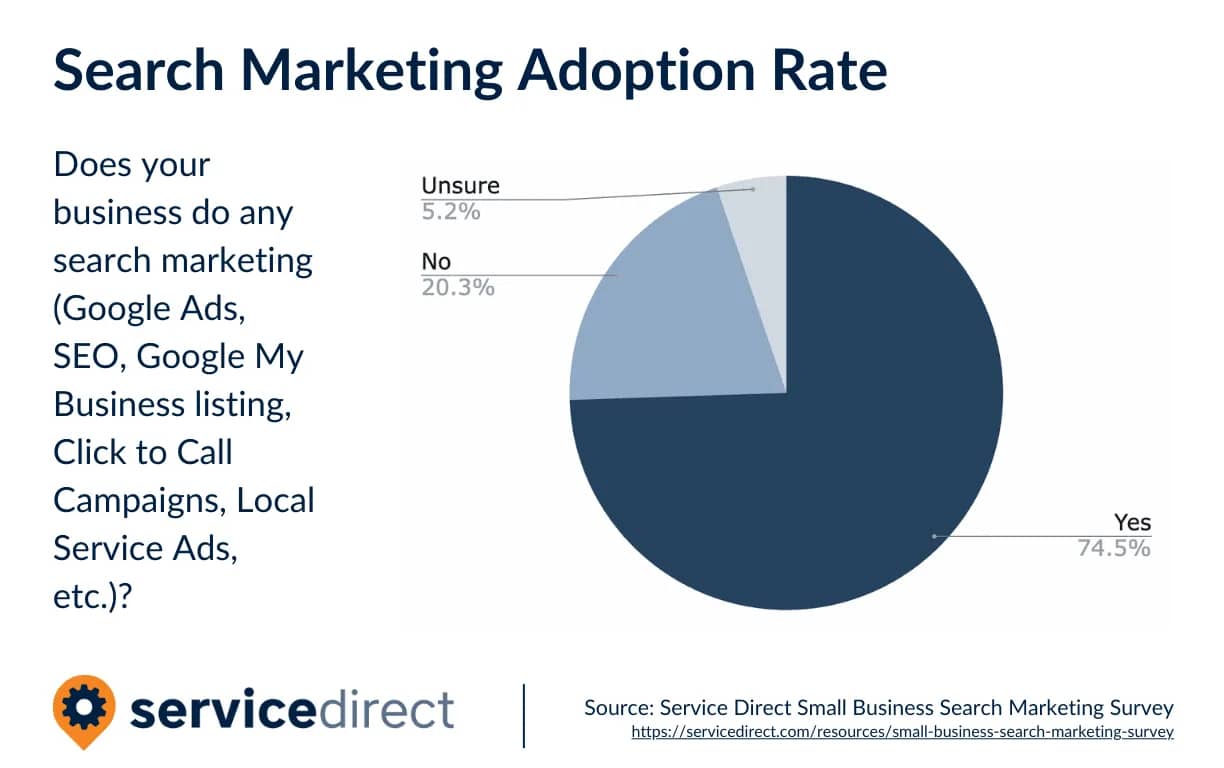 That's where we come in.

In this blog post, we will discuss how mold remediation businesses can create a successful marketing plan that will help them stand out in their market. We'll provide tips on how to plan and build your marketing strategy, as well as how to adjust your plan if you are not seeing the desired results.

So whether you're just starting out or you've been in the business for a while, this blog post has something for you!
Why Do I Need A Marketing Plan?
When most people think of marketing, they think of commercials on television or billboards on the side of the road. However, marketing is so much more than just advertising.

A comprehensive marketing plan considers all aspects of your business, from your target market to your competition. It also outlines your goals and objectives and provides a detailed plan for how you will achieve them.
By developing a marketing plan, you can ensure that your mold removal company is getting the most out of its marketing efforts. Plus, with 61% of businesses having a documented marketing plan in place, you can't afford to miss that crucial step.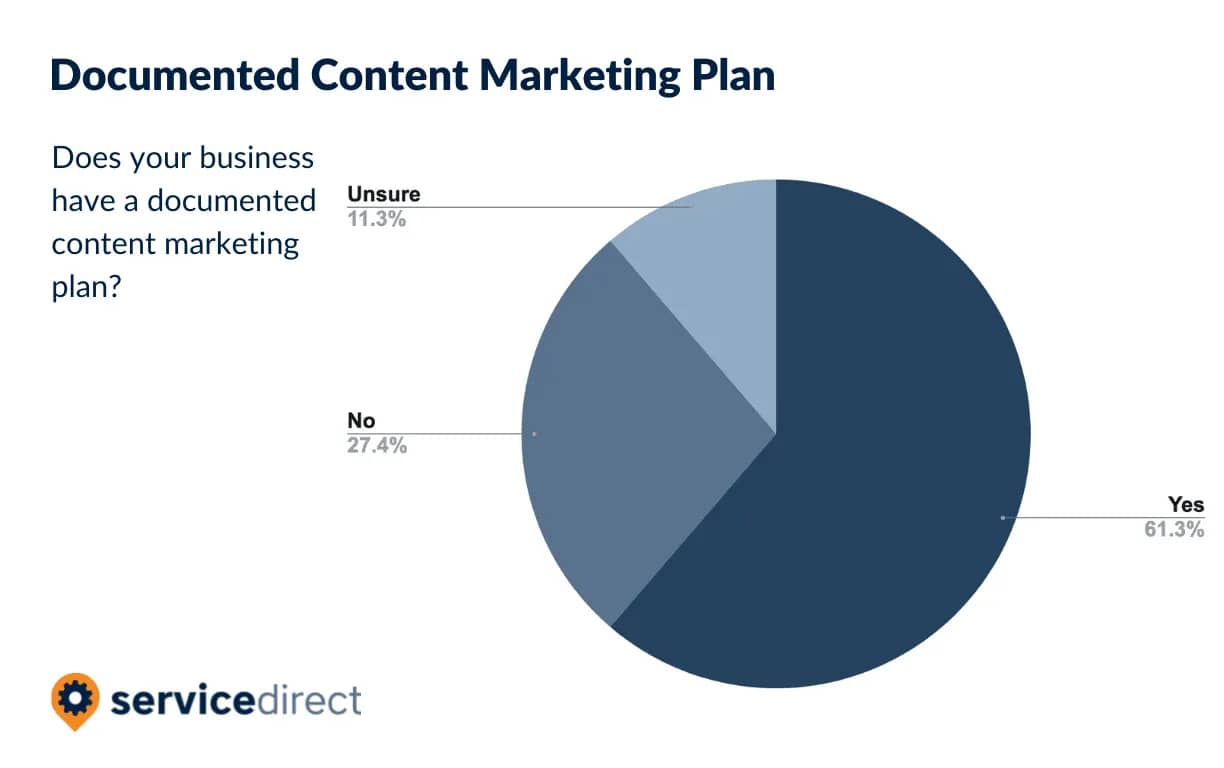 One of the main benefits of having a marketing plan is that it allows you to focus your efforts on your target market. When you know who your ideal customer is, you can craft messages that appeal directly to them.
This laser-like focus can lead to a significant increase in leads and sales. In addition, a well-defined target market can help you save money on advertising and other marketing expenses.
Another benefit of having a marketing plan is that it provides a roadmap for success.
Without a plan, it can be challenging to measure the results of your marketing efforts. With a plan in place, you can track your progress and adjust your strategy as needed to ensure that you are achieving your desired results.
Now that we've discussed the benefits of having a marketing plan, let's talk about how to create one. The first step is to define your mold removal business.
Define Your Company
When you sit down to create a marketing plan for your mold removal company, it's important that you have a clear idea of your business's mission statement and customer-facing business goals.
These are the foundation for everything else in the marketing plan and will be what you present to potential customers. Everything else in your marketing plan should support these 2 things.
If you can't seem to define either of these elements, take some time to brainstorm with your team. Once you have a clear idea of what you want to achieve, you can start writing your marketing plan and create an effective strategy for reaching your target audience.
Mission Statement
In the business world, a mission statement is defined as "a formal summary of the fundamental goals and objectives of a company." In other words, it is a brief description of what the company plans to achieve.
For mold removal businesses, crafting a mission statement is a crucial first step in connecting with potential customers via marketing efforts.
"Define what your brand stands for, its core values and tone of voice, and then communicate consistently in those terms."
– Simon Mainwaring, Founder and CEO of We First Inc.
By clearly articulating the purpose and goals of the business, mold removal companies can more effectively target their marketing efforts and ensure that they are reaching the right audience.

Additionally, a well-defined mission statement can help to build trust and credibility with potential customers, as it demonstrates that the company is focused on achieving specific goals.

Taking the time to define a mission statement will pay off in terms of better connecting mold removal businesses with their target market.
Strategic Market Positioning
Now that you have a mission statement for your mold remediation company, it's important to dive into where you will position yourself within the market through your marketing efforts.

While mold removal is a high-demand service, there are likely multiple other companies in your area that provide similar services. Your market positioning is how you stand out.

There are a few key ways to go about this:
First, consider what unique selling proposition your company has. This could be anything from having the most experienced technicians to offering the most competitive rates. Whatever it is, make sure it is clear and concise.
Second, think about what needs or pain points your target market has that you can address with your services.
Once you have a strong selling proposition and you know what needs/pain points your target market has, you can begin developing targeted marketing campaigns that speak directly to them.
These can be blog articles, social media posts, or even ads. The key is to make sure your marketing efforts are aligned with your overall business goals so that you can effectively attract new customers and grow your business.

Keep the following questions in mind when discussing how to stand out with your market positioning:
SERVICE

How does your mold removal company stand out from your competitors?
In what ways do your services directly solve potential customers' mold problems?
Are there value propositions associated with your service offerings that make you the ideal mold removal company?



PEOPLE

What are you offering applicants in order to attract the best employees?
What plans do you have in place to remind your employees of the company-wide mission?
How will you hold employees accountable for their customer-facing behavior (good or bad)?
Have you clearly defined the roles each employee will have in your mold removal company?

PRICE

How will you set a price that balances showing customers you offer good-value services while not short-changing your company or your technicians?
Is there a way to increase the value of customers for your business?
Do you offer discounts or more affordable services than your competitors that will help set you apart?

PROCESS

Do you have methods in place to communicate with existing customers?
How do you plan to communicate with potential customers?
What plans do you have to not only make customers' lives easier but also ensure that they are aware of your efforts?
Define Your Goals
When it comes to mold removal marketing, it's important to have a clear goal in mind. This will help you monitor your progress and make necessary adjustments along the way.

All too often, businesses like yours have vague goals such as "bring in more leads." This may be a good place to start, but it's important to be more specific so that you can adequately measure your progress.

Here are some questions to ask yourself when setting your marketing goals:
What does success look like? How many leads do you want to bring in?
What is your budget? How much are you willing to spend on marketing?
Who is your target audience? What demographics are you trying to reach?
What methods will you use to reach your target audience? (Advertising, social media, email marketing, etc.)
We are huge fans of the Objective and Key Result (OKR) process for setting goals and tracking your progress toward them. OKRs are a really powerful way to help you understand where you want to go and how you can get there.
Answering these questions will help you better define your marketing goals and create a plan that is more likely to succeed.
Tracking your goals
Once you have a clear understanding of your specific goals, you can develop a plan to track their progress. At Service Direct, we use OKR goal tracking methods, which have helped us to monitor, adjust, and stick to our goals.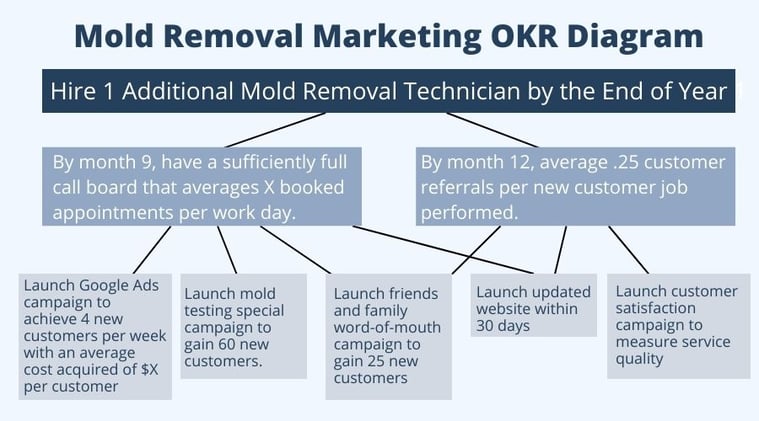 There are many other goal-tracking methods as well, so find one that works best for you and your team. By tracking your progress from the start, you'll be able to see what's working and what isn't, and make adjustments as needed.
Here's another example of what your overall goals may look like in a mold removal company:
OBJECTIVE

Where do you want the mold removal business to be after the first year?

Eg: Continued growth that allows for the time and funds to hire an additional mold technician.

KEY RESULTS

In what ways will you evaluate your progress to know if you are on track?

Eg: By month 8, have a full schedule that averages X booked appointments per work day.

TASKS

What do you need to do to work toward accomplishing your goal?

Eg: Debut new website within 45 days, Launch free mold testing promotion to gain 60 new customers, etc.
Define Your Mold Removal Marketing Channels
There are a variety of marketing channels available to your mold removal company and each has its own strengths and weaknesses.
One popular option is social media marketing (Facebook, Instagram, Youtube, TikTok), which can be used to reach a large audience at a relatively low cost. However, it can be difficult to stand out on social media platforms, and the results are not always immediate.
Another option is email marketing, which can be highly targeted and personalized but can require a significant investment of time and effort.
Other Marketing Channels:
Organic Search Engine Marketing (Google Business Profile, SEO)
Paid Digital Advertising (Sponsored Google Ads, PPC)
Local Directory Websites
Whatever marketing channels you ultimately choose, it is important to have a clear understanding of your goals and how you will measure success. Only then can you ensure that your marketing campaigns are delivering the desired results.
Define Your Budget
Your marketing budget is one of the most important aspects of your mold remediation marketing plan—and one of the most difficult to nail down.
There are a lot of factors to consider, from the cost of advertising to the price of market research, and if you're not careful, it's easy to overspend. The key to avoiding overspending on your mold removal marketing plan is to take the time to develop a budget and then allocate your resources accordingly.
The average business spends 1.08% of its revenues on advertising, with variations from industry to industry. Depending on your revenue, this number could be significant or quite small.
If your marketing budget is leaning toward the smaller side, it can quickly get gobbled up by costs like advertising, website design, and market research. As a result, small businesses often have to get creative when it comes to marketing their products or services.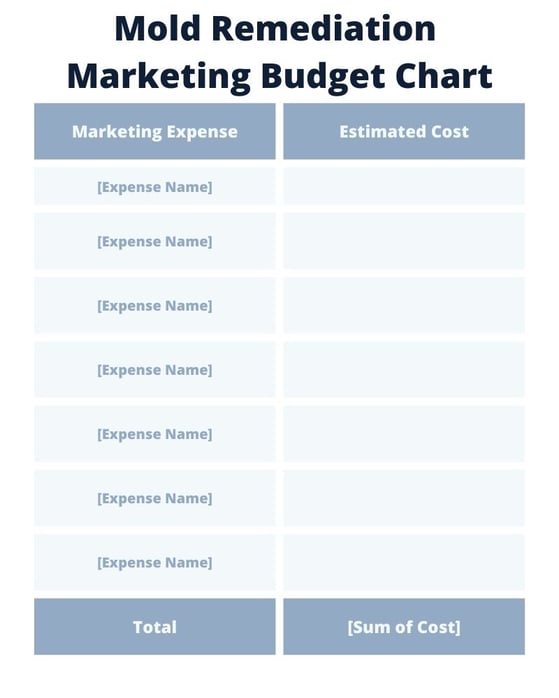 One way to stretch your mold removal marketing budget is to take advantage of free or low-cost marketing tools, such as social media or SEO. Another option is to focus your marketing efforts on a specific target audience like people who own homes older than 50 years.

By scaling your marketing efforts, you can get more bang for your buck and make the most of your limited budget.
Determine Your Marketing Tools
Now that you have a marketing plan for your mold remediation company, it's time to decide which marketing tools you want to use to implement and track the plan. Plus, with 30% of small businesses not using 3rd-party tools to track their marketing efforts, you can use this to get ahead.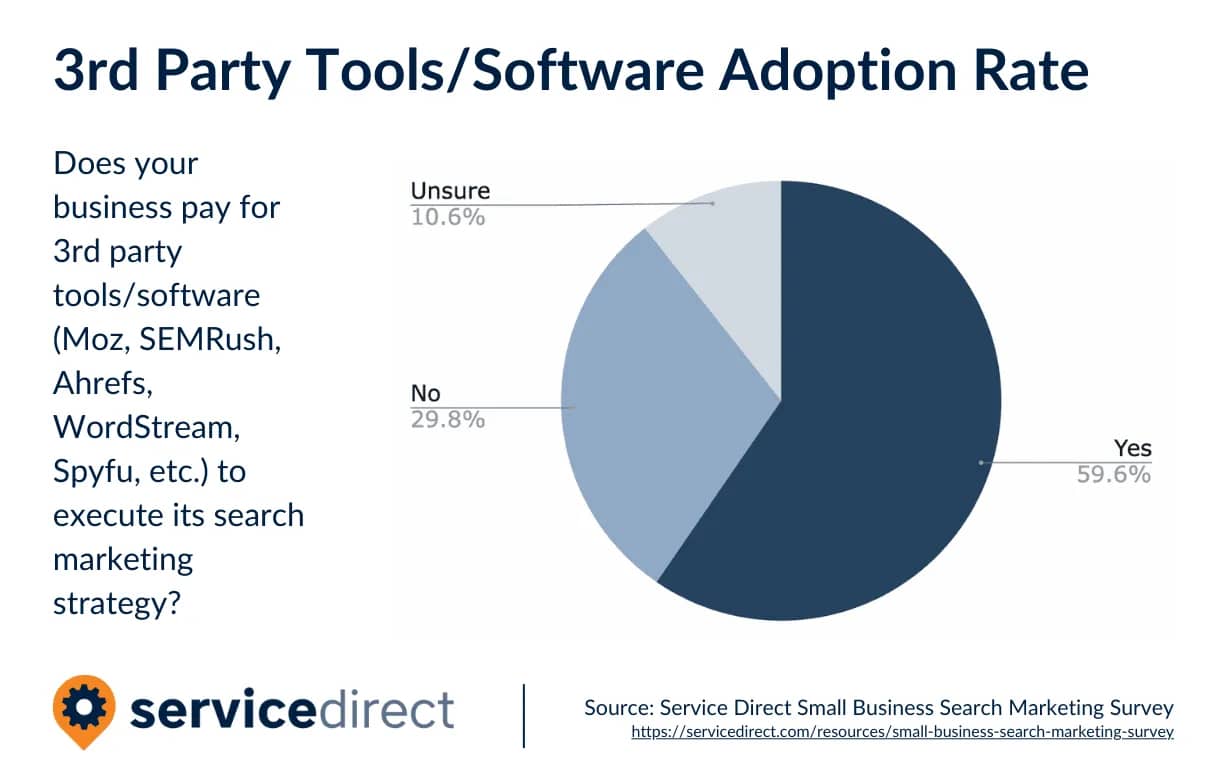 There are a number of different marketing tools available, and the best choice for your company will depend on your budget, your target market, and your goals. However, some tools are more effective than others when it comes to mold remediation marketing.
There are tons of marketing tools available to keep track of spend, search engine optimization metrics, email scheduling, and more, which can be both good and bad.
On one hand, you seemingly have your pick of the lot and a plan in place that will help you decide which tools are the best fit for you. On the other hand, it's yet another step to take in ensuring your marketing plan is successful.
But, trust us when we say that this step could be the one that sets you apart from other mold removal companies.
Download our Mold removal Marketing plan template
Implementing a mold remediation marketing plan doesn't have to be difficult. In fact, it can be pretty straightforward when you have the right information at your fingertips. That's why we put together this blog post on standing out in your market with a clear mold remediation marketing strategy.

If you found these tips helpful and are looking for even more in-depth marketing tips, download our free guide on mold remediation marketing.

This guide is packed with tips and tactics that you can use to create or improve your current marketing strategy. Download it today and get started on attracting more of the high-quality leads you need to grow your business!
Related Content